Having drawn a flooring surface, selecting it will open up for modifications such as stretching, rotating, etc., all similar to the Custom Shapes.
Unless you are actively creating or editing flooring surfaces in your drawing we recommend that you leave the Lock floors when Flooring tab is not selected checkbox ticked. Doing so will prevent interaction with flooring surfaces when you are on any other component tab than Flooring, thus preventing flooring surfaces from being moved or edited by accident.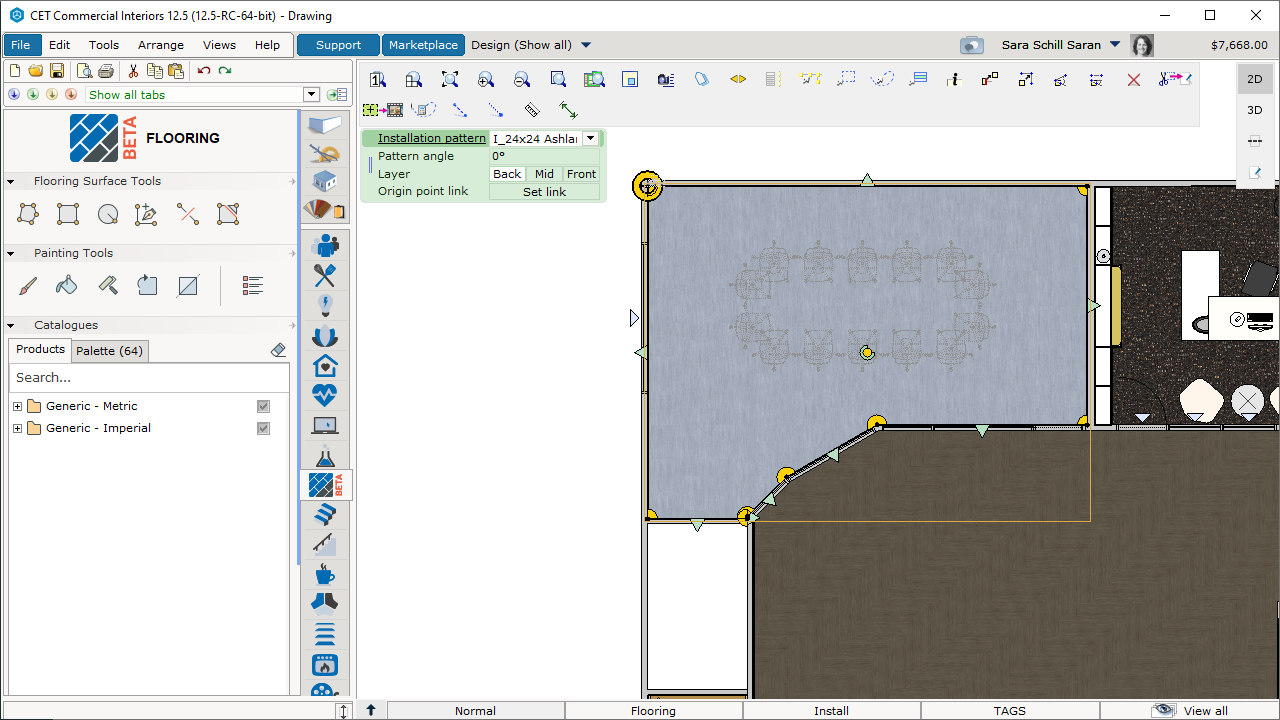 In a surface's Quick Properties box, you will also find the following options for modifying the surface:
Installation pattern – expand the drop-down list to pick an installation pattern for the selected surface. Some patterns come with the Flooring Extensions, while others could be Manufacturer specific or user-defined.


Flooring surface not showing the installation pattern you chose? Switch over to the

Flooring view mode

and you'll be able to see installation patterns and products.
Pattern angle – enter a value between 0° and 359.99° to rotate the installation pattern on the flooring surface.


Layer – the default 2D position for flooring surfaces is 'Back', to have them appear at the bottom of the drawing. If you wish, you can place them at the 'Mid' or 'Front' layer instead.


Origin point link – origin points are where the layout of tiles begin, which is noted on the flooring surface by a large yellow circle. An origin point can be linked to that of another flooring surface so that they share the layout. For example, if you have two different flooring surfaces but you want them to align with each other, you would set them to share the same origin point. It would then appear as if it was one large flooring surface, but they would in reality be two different flooring surfaces meaning you could have different patterns or tiles on each one of them.