Calculations
Calculations is the window where you can come to organize the product list that automatically updates when you place symbols in your drawing. When a product is placed, changed, stretched, removed, or has properties applied, the Calculations will instantly update to reflect what you are seeing in the drawing view.
In Calculations, you can edit what is shown, input discount information, and add charges for tax, shipping, handling, etc.
To view the pricing calculation at any time, click the current price in the upper right corner of the screen; the Calculation dialog opens.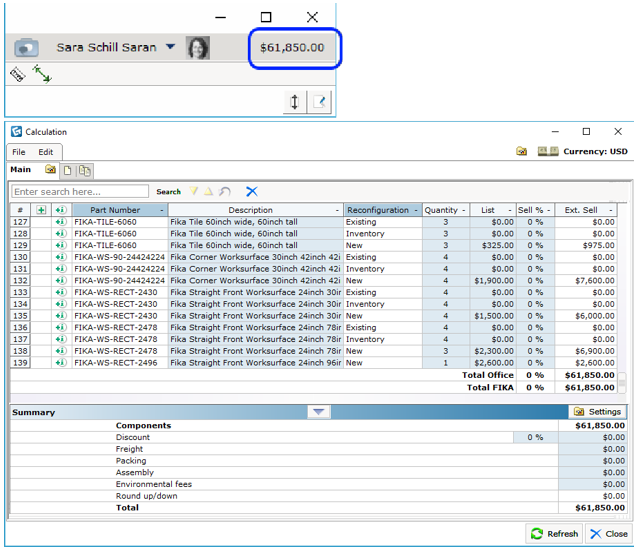 Article Views
You can add different Article Views to Calculations for ordering, installation, sales, and other purposes. In each Article View, you can adjust the View Settings to customize the product list and relevant information shown in each view.
The Article Views you have created are visible in the top area of Calculations just below the toolbar:

Create a new

view

to add an additional Article View. The icon with one piece of paper will create a view with the default View Settings; the icon with two sheets of paper will add a copy of the selected article view and will keep the same settings.

Open the

View settings

dialog where you can name and sort the information in the article view.

Delete the selected article view.
View Settings
Calculations defaults to a view named Main while each additional view will default to Article View 1, 2, etc. These views can be renamed, filtered, and reorganized to display the information you need.
On the Article view tab, select the

View Settings

button:

The view setting dialog has five tabs that are expained in the articles found in these links:

Printing and exporting Article Views
Once you are satisfied with the View Settings in your Article View, you can print or export directly from Calculations. Both actions are found in the File menu: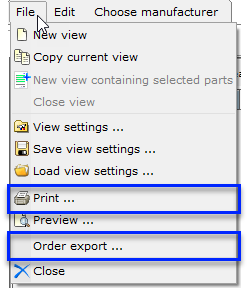 Print
The Print dialog is basic and will use settings that have been selected in the Print Reports window.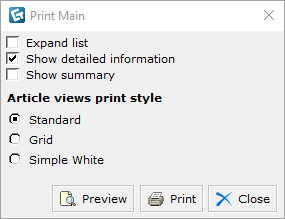 Expand list: Separates lines that have been collapsed using the Split by function in the Columns tab of View Settings
Show detailed information: Includes option and finish codes and descriptions that may be hidden in the Calculations window
Show summary: Display the summary area found at the bottom of the calculations window
Style:

Export
Exporting an Article View in CET will create a .sif file that can be imported to any quoting or ordering system that can read that file format. When you choose Export from the File drop-down menu in Calculations, you will need to choose your Export format and Export url. The Export format will vary depending on the quoting and ordering software you plan to import the .sif to once completed. Choose the Export url for where the .sif file will be saved on your computer.