If you are looking for a particular line in the Calculation, you can search for items specifically. If you do not already see the search bar above the list, you can go to the Edit menu in the Calculation window and choose Search: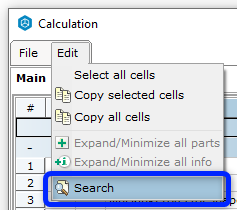 Once the search section is expanded, follow these steps to find a specific line item.
Type in the Search bar at the top of your product list. Lines that contain matching content will be highlighted in yellow. The Search scans ANY columns turned on, including Part Number, Description, Options, etc.
Search up and down through the Calculation to find the previous or next search result match using the yellow arrows to the right of the text cell.
Click Clear search to reset and remove the highlighting. Now you can enter a new search.
Click Close Search to hide the search bar. To turn it back on, select Search from the Edit pull-down menu.