You can edit settings for the Calculation dialog by clicking the Calculation Control Panel button 

 in the top right corner of the Calculation dialog.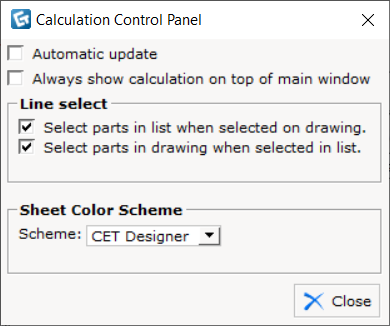 In the dialog, you will find the following options:
Automatic update: The Calculation dialog updates automatically when objects are placed in the drawing area.
Always show calculation on top of main window:

 

E

nsures that the Calculation window is always on top of CET when it is not minimized.
Line select: Select these options if you want objects selected in the drawing area when a line is selected in the Calculation dialog and vise versa.
Sheet Color Scheme: Select the desired color scheme for the Calculation dialog.
Choosing Currency
In the Calculation dialog you can choose which currency prices are shown in. Click the button Currency in the upper right corner in the Calculation dialog:

The options in the Currency drop-down menu are the ones the components placed on the drawing area support. To add another currency, click the button Other currency. Then set the current exchange rate for the currency.
In the Format drop down-menu, choose how to display the currency.