In an Article View, any cell with a blue fill can be edited by double clicking and typing in new information. An edited cell will have teal fill to show that it has been modified.
A quantity change may be necessary if parts are being used from inventory, for example, or if you are ordering more parts than are shown in the drawing view. The quantity that can be found in the drawing will be displayed in parenthesis next to the revised quantity. Clicking an edited quantity will show a red X which resets the quantity.

View Options
Click the Expand info button to see all finishes and options for all the lines in the article view:

To see the options of one line only, select the Expand/Minimize button to the left of an individual line: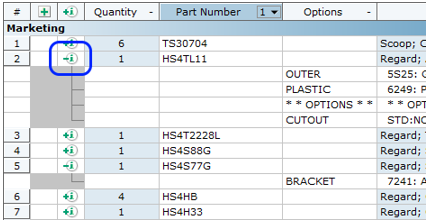 Multiple Select
You can select and edit cells in the same column over multiple rows at the same time. This also applies when removing custom changes.
Select the line number for the items you wish to modify, Use the Ctrl or Shift key to select multiple lines:



Ctrl allows you to select individual, additional lines. Hold down Shift and select any other line; all lines in between the two will be selected. To de-select an individual line when multiple items are selected, hold down Ctrl and click the line again.

Double-click in the field you wish to edit.
Type in the text.
If you are removing the changes, select all the edited line numbers, select one of the teal cells that was changed, and click the red X that appears. Now all edited cells in that column for the selected rows are reverted to their original contents.