When you open a new drawing, a ceiling is never automatically included. However, showing a ceiling can sometimes do much to improve an interior's atmosphere. There are two ways to place a plain ceiling: Auto expand and Manual.
Auto expand ceiling
In the Wall Drawing tab, open the Ceiling settings ... dialog box: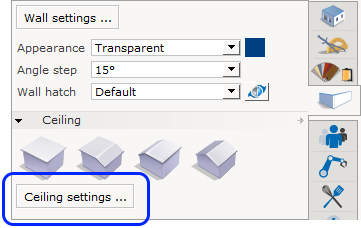 Click Ceiling settings...

in the Ceilings

section on the

Wall Drawing

tab.
The

Ceiling dialog box opens:





Select the

Show ceiling

checkbox.
The ceiling settings window includes additional properties to customize the behavior and appearance of the ceiling:
Solid (casts shadow): When rendered, the ceiling shows solid and will create a shadow in the image. This does not affect the appearance while in the drawing.
Auto expand: Ceiling size will grow or shrink based on the objects placed in the drawing. When this box is unchecked, The X, Y, Width, and Depth options are unlocked and can be adjusted.
Extend Ceiling: When Auto expand is checked, set a distance for the ceiling to hang over the bounds of the objects in your drawing.
Ceiling height: Enter a value for the elevation of your ceiling.
X, Y: Moves starting point of your ceiling in relation to the base point of the objects in your drawing.
Width, Depth: Enter values to adjust the size of the ceiling.
Manual ceiling
To place a ceiling manually, in the Wall drawing tab, locate the Ceiling section.

Select the Plain ceiling tool.
Move the ceiling (represented as a blue rectangle) into the drawing area. To place a ceiling that is the same size as the room, move the cursor to where your walls intersect and left-click to begin positioning:




Ceilings will snap to existing walls which can take the place of entering values for Width and Depth.

In the Quick Properties box that appears while placing, enter the desired values for width and depth and press the

Enter key or left-click.

Stretching & Properties
You can also stretch the ceiling manually after placement by clicking and dragging the yellow snap points.
If the Locked option is disabled, you can individually set the left and right height of the ceiling.
Additionally, 4 yellow snap points will be added at each edge of the ceiling, this lets you stretch the edges of the ceiling as such: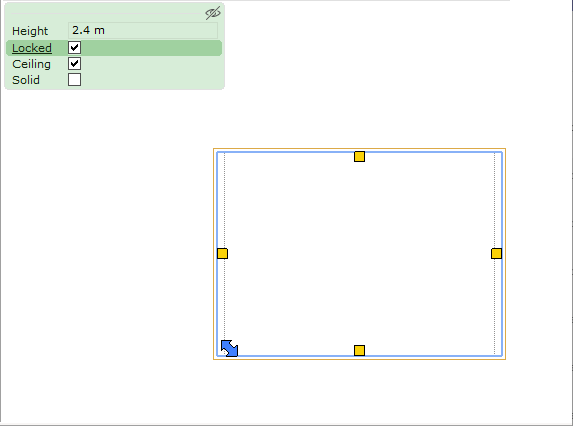 Any stretching done using these 4 edge snap points will be undone if the Locked option is enabled.
By selecting the Solid option in the green Quick Properties box, all light will be blocked, including sunlight. This can be useful for realistic rendering purposes.