Base trim is a decorative element and is also essential in many spaces. Adding base trim in CET is easy. Base trim can be applied to all walls in the Wall settings dialog found at the top of the Wall Drawing component tab, but can also be applied with different properties for individual walls.
Adding base trim to all walls
Setting base trim as a default for either all existing walls or only future walls can be controlled in Scheme Manager for walls. Follow these steps:
On the

 

Wall drawing

 

tab, click the

 

Wall settings...

 

button to bring up the dialog.
Select the

 

Wall base trim

 

checkbox.
Set the height, depth, and type

 

of your choice.
If you don't have any walls in your drawing already, close the dialog and draw your walls.
If you already had walls in your drawing that you want to add the trim to, use Apply to all or Apply to selected. (Note that Apply to selected is only an option when a wall is selected in your drawing.)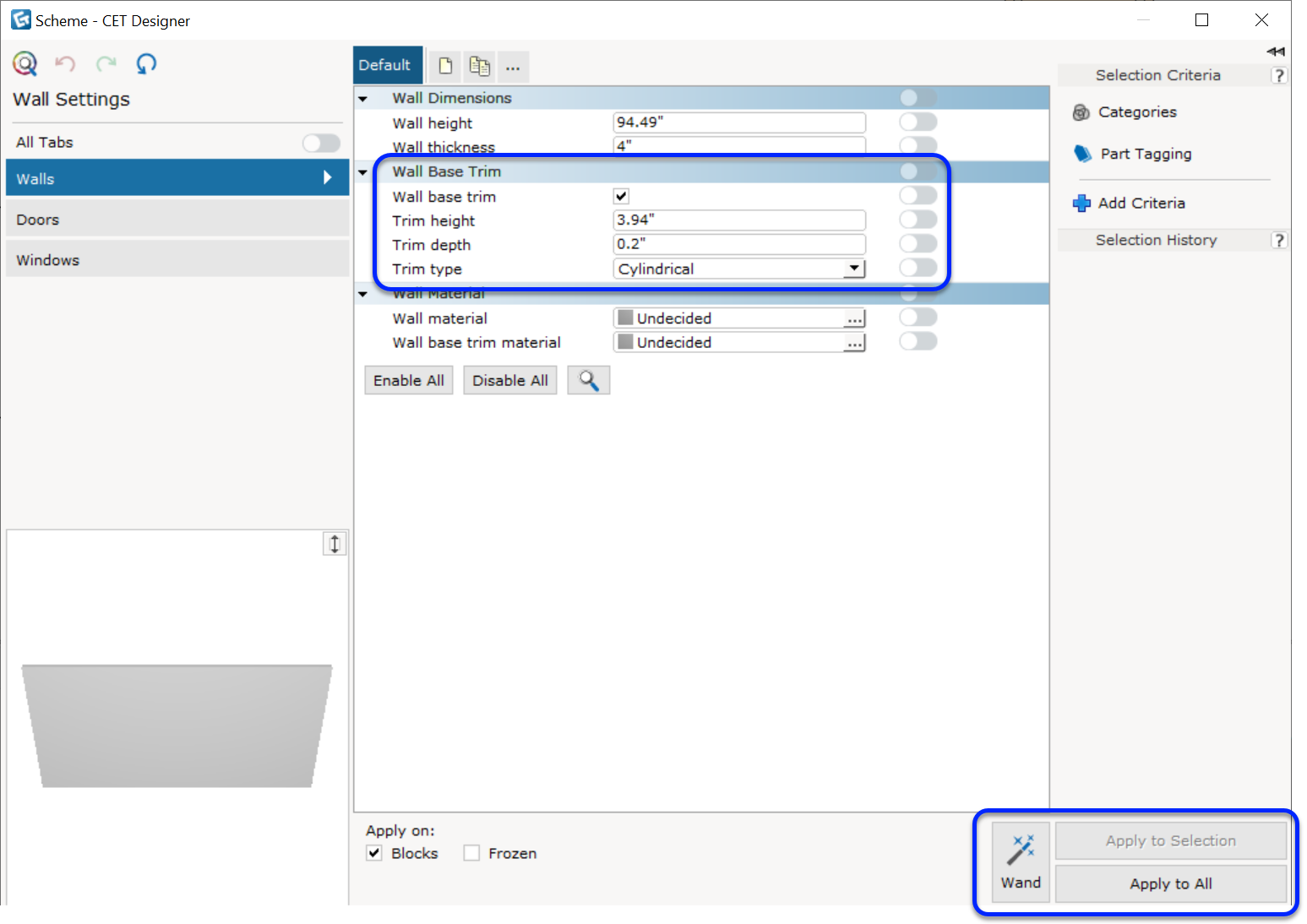 Adding base trim to individual existing walls
If you want to add base trim to individual walls that are already in your drawing, this is done by following these steps:
Select a wall in either the 2D or 3D view. A quick properties box appears.
Select the

 

Wall base trim

 

checkbox to add base trim.
You can alter

 

Trim type,

 

Trim height

 

and

 

Trim depth.
Repeat this step for each wall that should have base trim.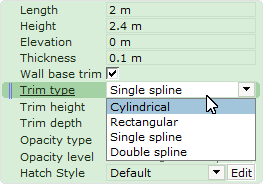 Trim properties
Once trim is inserted in the drawing, you can choose Trim type (style), height, and depth.  These properties can be found in the Wall settings and will expand in the properties box for individual walls selected where Wall base trim is checked.


Left to right: Double spline, Cylindrical, Single spline, Rectangular