You may need to create Article Views that only have certain products for various purposes. For example, you may need to:
Order only one phase of your drawing.
Provide installers a list of components to install.
Show a view of just seating.
Use the Filter tab in View Settings to customize which line items are shown in a selected Article View.
Use
Part Tagging
to assign phases or areas throughout your drawing, which can then be filtered in your Article Views.
To apply a filter, follow these steps:
In the Calculation dialog, open the

View settings

dialog by clicking this icon on the tab for the Article View whose settings you wish to edit:




At the top, rename your Article View to describe what is contained in it.
Click the

Filter

tab.
Two sections are visible. The section on the left shows all properties by which you can filter. Common ways to filter are by Manufacturer, Catalog, Part Tags (TAG1, TAG 2, etc.), or Description.
When you select an option on the left field, e.g.

TAG 1, all values in that category will be displayed in the field to the right. Deselect the check boxes for the items you do not wish to include. At the top, you can uncheck All and then only select the lines you want to include, which may be easier if there are fewer lines to include.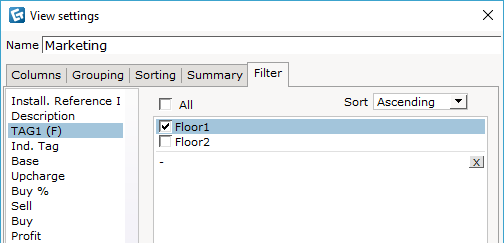 A quick way of getting to the Filter tab is to right-click the column header and select Filter from the context menu.