---
CollabPro has different file types to manage different part of a Project.
Each of these files can only edited by a single user at any given time.
Sections
A Section file is a segment of a drawing. A user may create multiple comparable Sections as Alternatives.
Not only does this split Projects to much manageable areas, but this also eliminates conflicts while multiple users work in the same Project, as each Section can only be edited by a single user at any given time.
If there are no Sections found locally under Open Files, a Section will be created automatically once something is placed in the drawing area.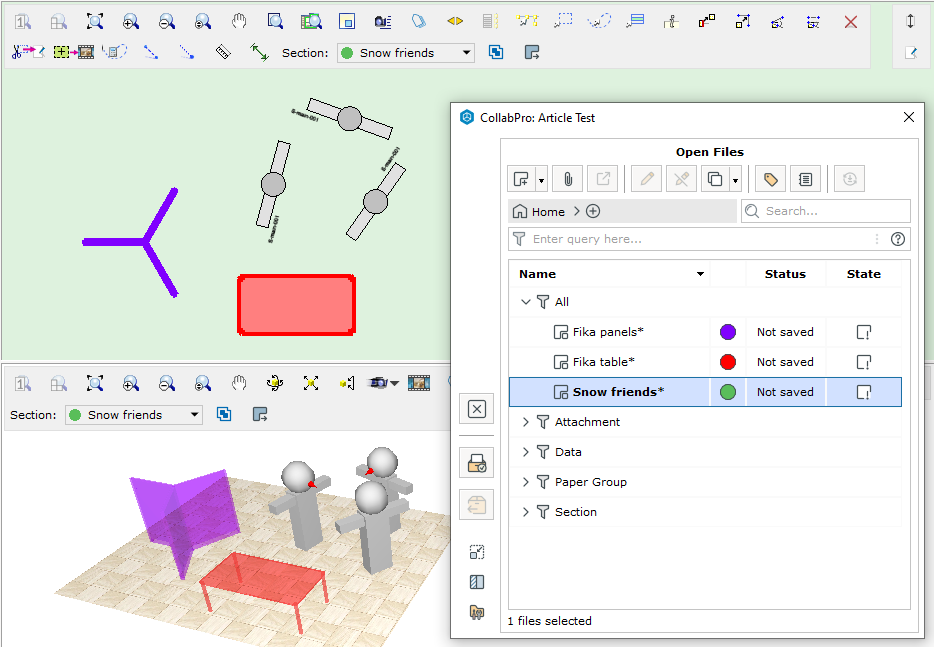 Sections can be assigned with different colors by clicking the colored circles in Open Files.
Components placed in the drawing area will be added into the Section highlighted blue under Open Files. Other Components in other Sections are made slightly transparent with its Section color.
Attachments
Do you have any other files related to a Project you are working on? You can upload these files as Attachments in your Project. This effectively makes any file into a collaborative effort, updated into the cloud!
To add a file as an Attachment, simply click on the Add Attachment

button.

You can then open an Attachment by double clicking it under Open Files, or click the Open Attachment

button while an Attachment is selected.
Paper Groups
Just like Sections are to Components, Paper Groups are the same for Papers, a manageable collection of paper sheets. A paper will always belong in a Paper Group.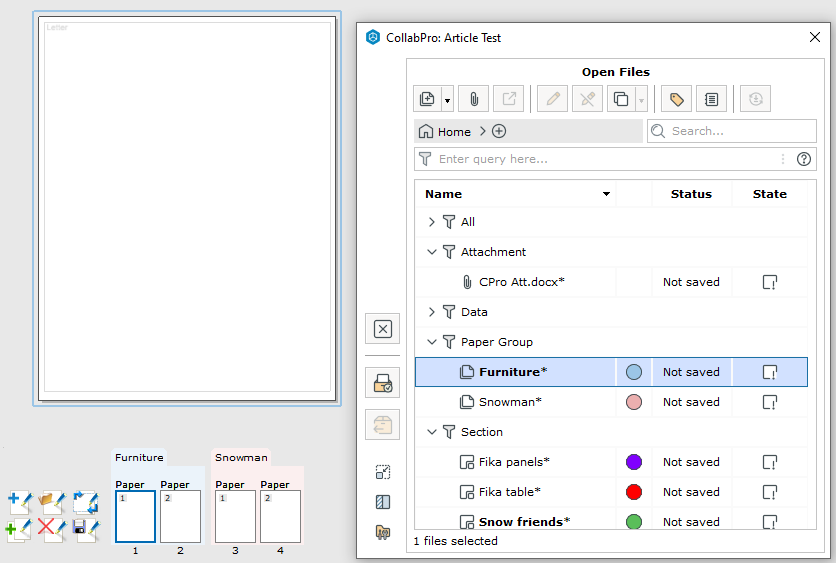 Switching into Paper View changes the top-left button in Open Files into the Create a new paper group button where you can create a new Paper Group.

Any modifications done in Paper View corresponds to the current selected Paper Group under Open Files.
Data
Data type (CET Material Handling Unit loads) will be created automatically if abstract unit load is enabled in extension details. Unit load is tied to the unit load editor from essential pallet racking.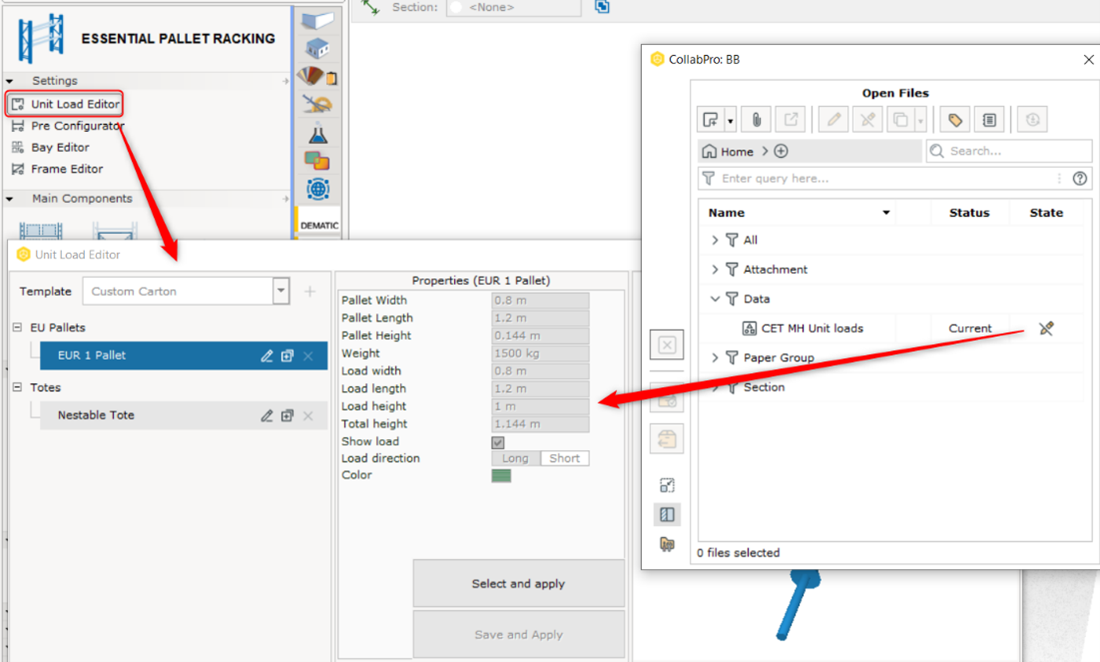 Scenario
Scenario is a feature to group multiple Sections, Paper Groups, Attachments, and Data together.
An example usage would be to group for Calculations, switching between Alternatives allow users to easily gain differential insight.
To do so, simply hold the Ctrl key on your keyboard, Left click on each file to be grouped. Then Right click on one of them to select Create scenario from files in the dropdown menu.
Notice that only 1 Scenario can be worked on by a user at any given time. Creating or loading a Scenario will remove any unrelated files to the Scenario.
Each Section, Paper Group, Attachment, and Data can be grouped into multiple Scenarios.
File References
References are other parts of a drawing that must be loaded along for a file to be its complete self.
For example, if a paper has a viewport that is viewing 3 Sections, an action of loading the paper will automatically also load the 3 Sections. These Sections are considered the references of the paper.
Reference Sections will be highlighted turquoise when Referencing section is selected​.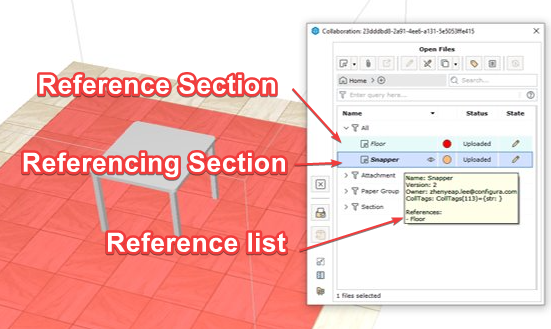 Since Referencing Files depend on Reference files, each will be loaded together if there are references between it.
Reference files can't be removed until the Referencing file is removed.
Example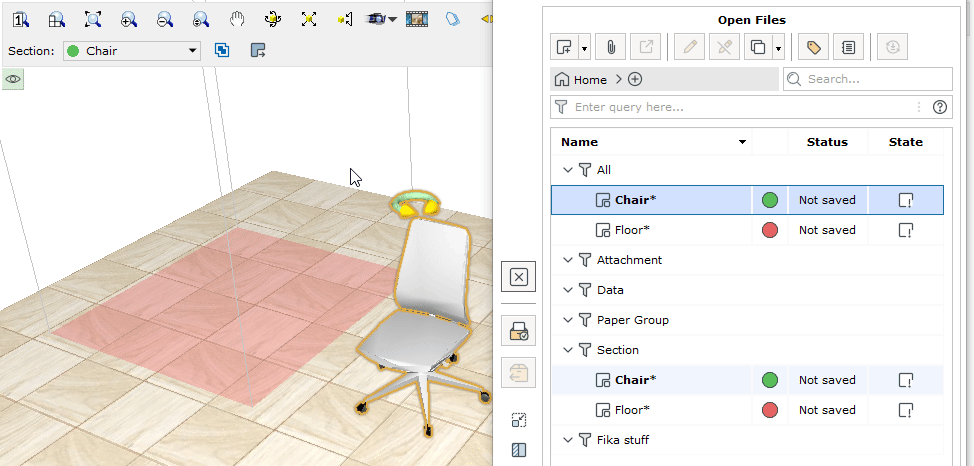 Section A – Create a multi-floor​
Section B – Place some snappers on top of the floor​
Dependency is created​
Shared Blocks
A Shared Block is a reference file type placed across Sections. Just like a Block, changing a Shared Block will update all Shared Blocks used.
It can be created:
Automatically, when owners are inserted into more than 1 Section.
Manually, when user chooses to "Share" the block (while it was still being used on one Section)

Create a Block in a project
Right click the Block
Click on Share block