Overall, licenses default to a 12-month period and renewing them is straight forward. 30 days prior to the expiration date, all license administrators in the license group will receive a notification that the licenses are about to expire. The email contains two different renewal options:
Renew all licenses: if you are satisfied with your current licenses, click the Renew all licenses link in the email to review and pay the premade invoice for next year's subscriptions. Your licenses are then automatically renewed.


Renew some licenses: if you only want to subscribe to some licenses, click the Renew specific licenses link in the email which will take you to the Marketplace where you follow the renewal process step-by-step. Once this partial renewal is finalized, a new invoice is generated and emailed to you and the premade invoice is cancelled.


Customized purchase of licenses: if you want to renew all (or some) licenses AND add new licenses, you should disregard the invoice and simply go to the Marketplace to purchase all the licenses you need and then administer them as needed.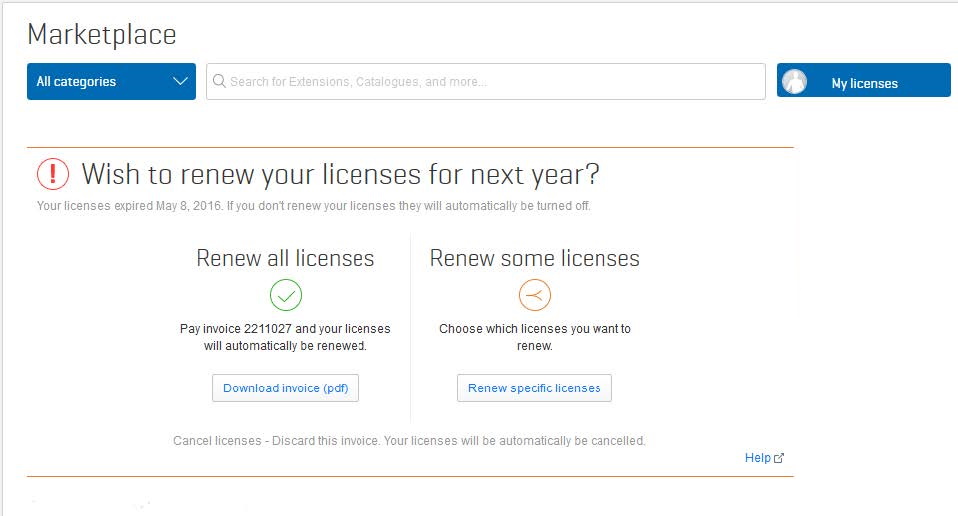 Please note that:
Licenses can only be renewed if the Configura License Agreement (CLA) has been signed.


Should an invoice become overdue, you will receive email notifications from Configura when that happens, as well as 7 days past due date.


If specific licenses are renewed at a later date, the invoice due date remains the same.


Monthly licenses may also be offered in the purchase process in the Marketplace, but they do not qualify for the discount levels explained below.


CET Support can edit initial licenses to expire on a certain date, i.e. to coincide with your fiscal year-end.


If the licenses are not renewed and the invoice discarded, the licenses are cancelled 14 days after the invoice due date.