Working in Paper View, you can include your drawing's 2D view in titleblocks or installation documents.
To import the 2D view into Paper View, use the View Clip 2D or Empty View Clip 2D tools found on the Tools (paper) component tab: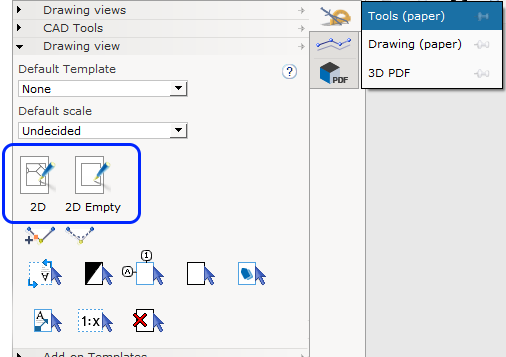 Inserting a View Clip 2D will prompt you to pick which area of your drawing should be displayed within the clip right away, whereas inserting an Empty View Clip 2D will serve as a placeholder that enables you to prepare your layout and pick the contents later on.
Selecting Default Template and Default Scale
You can prepare your View Clips by selecting a Default Template and a Default Scale:
Default Template: If you want all View Clips that you insert to have certain add-ons, you can create Add-on templates which are then listed in this dropdown menu.
Default Scale: If you want all View Clips that you insert to have a certain scale, predefined or custom, select it from the drop-down menu.
Inserting a View Clip 2D
To use this tool, follow these steps:
Select the paper where you want to insert the View Clip 2D.
On the Tools (paper) component tab, click the View Clip 2D tool, shown above.
Move the cursor to the active paper. A blue rectangle follows. The quick properties box, in the top left corner of the view, provides options for the shape and contents of the View Clip:

Click once to set the rectangle's starting point.
Move the cursor diagonally across the paper until the rectangle is of the desired size, or use the fields in the quick properties box to specify length and depth.
Click again to finish the rectangle.


An alternative method to draw the rectangle is to hold the mouse button while selecting an area with the View Clip tool and then release the cursor when the rectangle covers the desired area.




Your Paper View now goes into Edit mode, indicated by a yellow background, where you use the rectangle to specify the contents of the View Clip.

If you have not set a default scale, click twice or click-and-drag to set the view.
If you have set a default scale, your scale decides what will fit in the View Clip. Click once when you are satisfied with contents.




You are returned to Paper View which is updated and your selection is now visible in the View Clip:




After placement, you can edit the shape as well as the view and the visibility of your View Clip.
You can go back to Edit mode any time either by clicking the Edit view button in the quick properties box, or by double-clicking a View Clip. To return to Paper View again, click this button in the top right corner of your view: