Selecting a Viewport 3D in Paper View will display its quick properties box: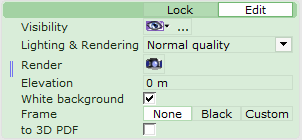 Here you will find a number of different options that affect the viewport:
Lock or Edit: When in Lock mode, the drawing has a lock symbol on it and the view cannot be changed. When in Edit mode, you can zoom, pan, and even make changes to the drawing in 3D. Locking a viewport does not lock it's position on the page, only the contents inside of the viewport.


Double click the edge of a viewport in Edit mode to lock it. Double click anywhere on a locked viewport to return to Edit mode.

Visibility: Choose View Mode (i.e. Panels, Electric etc.) is applied in the viewport. Use default View Modes, or create Custom View Modes. The hide individual categories using the

Filter

tab. Learn more about visibility and Viewports here.
Lighting and Rendering: Select a render quality for your image. Normal quality is the default value, but you can also choose Contour image, Quick render, or High quality.
Besides Contour Image, the Lighting and Rendering setting will only affect the rendering quality while rendering in the paper view. The quality of the rendering in the printout is set in the Resolution drop-down menu in the toolbar or in the Page Setup dialog, and Lighting is controlled through Light Settings.
Render: Render the current viewport.
Elevation: The elevation of the viewport relative to other items on the paper.
White background: Set the background to white.
Frame: Add a Black frame or create a Custom frame to outline your viewport.