In this tutorial we will gather all the knowledge gained from the other tutorials and prepare a typical model.
Open Model Lab and import the model from tutorial 1. Also available here: chair
Expand the Transform controller and adjust the scale. This is very important since the size of the model will affect the result of the automatic LOD creation process.
If there are no visible problems with the model, expand the Level of detail controller.
Select MK mesh reducer and click Run all.
Review the LODs by clicking on each LOD button or by using the up/down arrows. Do small adjustments where needed.
Next we will apply default materials.
Expand the Material controller and use the Material Explorer and the Material Lab to create/apply default materials to the model.
Switch to 2D-mode by pressing Spacebar and create a 2D-representation by clicking Rebuild from 3D in the Level of detail controller.
Do manual line reduction if needed.
Next, evaluate your model inside CET by dragging and dropping the model button to the 3D-window in CET.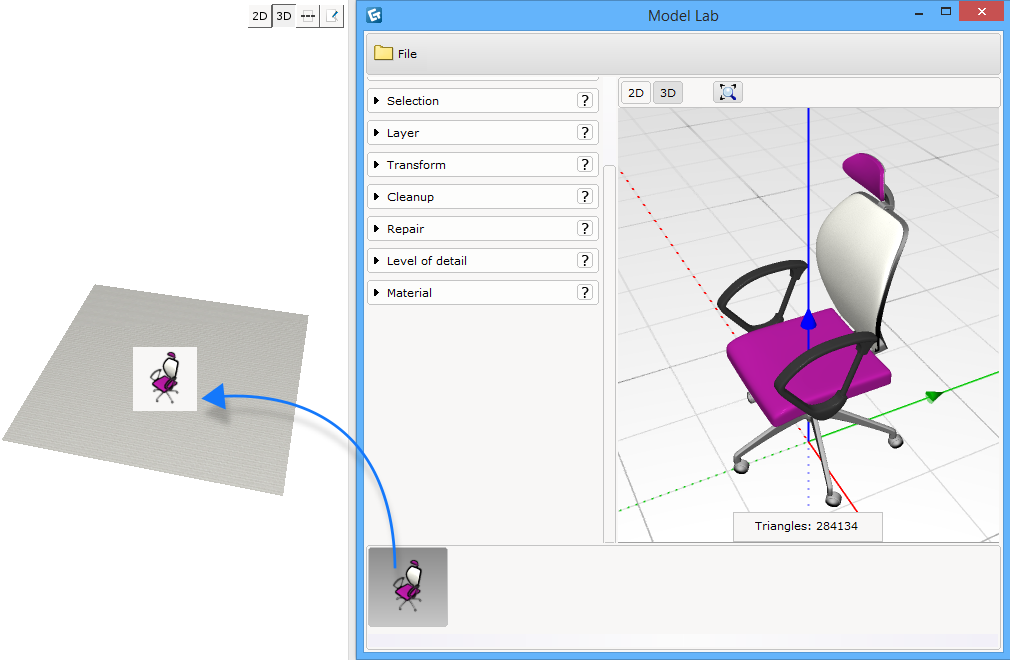 Open the Photo Lab and render a few images to make sure you are happy with the rendering quality. If you are not happy, edit the model, maybe edit mateiral etc and then drag and drop the model into CET again.
Save the model to cm3D by going to File->Save As, select cm3D as the format in the save dialog, select a proper name and click save.
If you want to store the orignal model and the model state just as it is in the Model Lab you can store the model in cmml format, which is Model Labs internal format. Since computers are constantly getting faster, it is likely that you will want to come back and reprocess a model in the future.
That's it! Now you should know:

How to prepare a typical model in the Model Lab
How to evaluate it inside CET