In this tutorial you will learn how to apply materials to your model.
Open Model Lab and import the model from tutorial 1. Also available here: chair
Expand the Material controller.
Click the Material Explorer button.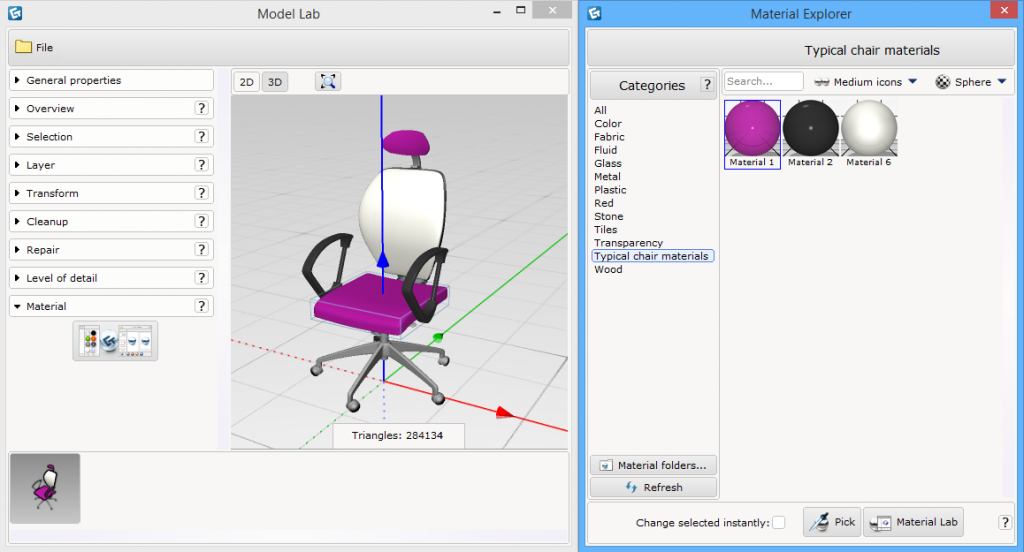 Click on the material you would like to apply in the Material Explorer.
Then move the cursor to the Model Lab window and click the node you want to apply the material to.
Click on another material in the Material Explorer.
This time, move the cursor over the model in the Model Lab, now you should see a list of the nodes to the right.
You can scan through this list changing the target for the material you are to apply by using the Tab key on your keyboard.
Use Shift + Tab to move in the opposite direction.
When you have found the node you would like to change, just click the mouse button or press Return on your keyboard.
You can create your own materials in Material Lab. Usually you start off with an existing material and edit it.
Simply double click a material in the Material Explorer to open it in the Model Lab.
Then just click New in the Material Lab and start editing.
Notice the Change selected instantly in the Material Lab toolbar. When checked, it will automatically update the last known material target when a material is being edited.
Once you are happy with the material you can save it by dragging and dropping it into the Material Explorer.
Exactly how you can edit materials in Material Lab is beyond the scope of this tutorial.
That's it! Now you should know:

How to apply materials to your model.