The Miscellaneous tab controls the AutoSave backup frequency, always copy imported resource files, XML namespace prefix and showing public (legacy) tab.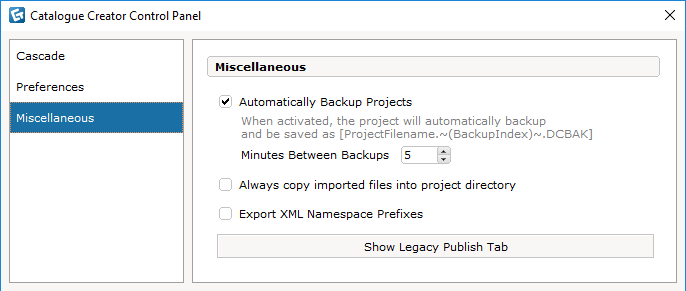 Automatically Backup Projects
Automatically Backup Projects option allows Catalogue Creator to automatically backs up all loaded project file in the Catalogue Creator provided it has been saved the first time.  The Minutes Between Backups determines the time interval between each save/backup. Backups will have the file suffix of .DCBAK.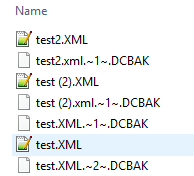 Always copy imported files into the project directory
Turn on Always copy imported files into project directory option to enable automatically copy files from outside of the defined resource directories (Swatches, Symbols, Preview Directory) in the Projects card without asking during the drag and drop operations to products and materials spreadsheets.

Turning on the option in the control panel means saying Yes To All every time and this dialog will not appear during the drag and drop operation.
Export XML Namespace Prefixes
This option allows users to save OFDAXml with namespace tags used in the OFDAXml Schema: Specific CET tags will have a namespace of "cet :" tag and the rest will have the "ofda :" tag.

With and without checking option Export XML Namespace Prefixes
Show Publish Legacy Tab
Clicking on this button adds the Publish (Legacy) tab in Catalgoue Creator.