You can control the visibility of components in CET, such as products, text, dimensions, print frames, and arrows, in both your drawing view or in Viewports in Paper View. 
Categories are the building blocks that other visibility functionality is based on. All components (products, shapes, text, etc.) in CET are automatically placed on a category. You can create new categories and assign different categories for text, lines, arrows, etc.
View Modes
A View Mode is a collection of categories. Default View Modes are created by a manufacturer to suit the basic needs of those who specify their product. View Mode buttons are located at the bottom of the screen in your drawing view. Click on a different View Mode button to change what is visible in your 2D and 3D drawing view.
The set of View Modes you see here depends on which Component Tab is active and how the manufacturer has set up them up. This is an example of how a default View Set with View Modes could look:

CET lets you set up custom View Sets and View Modes.
Custom View Sets
The collection of View Modes shown at the bottom of your drawing view constitutes a View Set. The default behavior is for the set of View Modes to change based on which Component Tab you have open.
To create a new View Set that will remain no matter which Component Tab is active, follow these steps:
Click the arrow to the left of the View Set, and click Edit.




In the Edit View Set dialog, click the + icon in the upper right and enter a View Set name. Confirm with OK.




Select the checkbox for each View Mode that you want included in your View Set. Your selection is instantly shown at the bottom of the screen:



Click the black triangle to the left to expand a list of the categories in that View Mode:



Close the dialog when you are finished.
To edit a View Set, open the Edit View Set dialog and find it again in the drop-down menu at the top.
All your custom View Sets are found by clicking black arrow to the left of the current View Set. Choosing a custom View Set will override the default behavior that changes the set when different Component Tabs are open.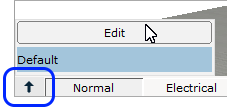 Return to Default to go back to having the View Set change based on the active Component Tab.