Categories are used to control the visibility of components in your drawing. Categories are assigned automatically, but can be edited.
View Modes are pre-defined collections of categories to show or hide many categories at once. Extensions have certain View Modes associated with them, and you can also create your own custom View Modes.
Use the View Mode tab in the Categorization dialog to associate components selected in the drawing with a specific View Mode. Access the Categorization dialog from the Tools drop-down menu or right-click on an object and select Categorize.
In the View Modes tab of the Categorization dialog, you can control which View Mode(s) an object should be visible in.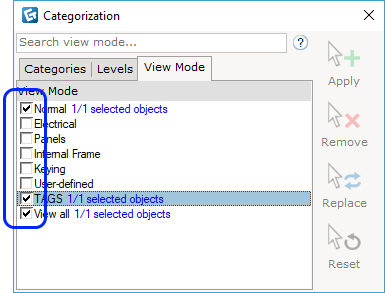 Objects are always visible in at least one View Mode, and by default, many are visible in more than one.
The ability to change View Modes for an object has to be enabled by the manufacturer that created the symbol.
To automatically place an object only in a specific View Mode, enter the View Mode before placing. This determines the Category as well as the View Mode it is assigned to.
For example, if you wish to have dimensions showing on the installation drawing only, click on the Installation View Mode on the bottom of your drawing view, then place the dimensions. Use the keyboard shortcut D or use the tool from the 2D toolbar. Now the dimensions will only show if you are in the Installation View Mode.