MyConfigura is Configura's main communication channel for updates and information, such as Release Notes and tips.
To log in to MyConfigura, a MyConfigura ID and password are required.
These are the main elements of the MyConfigura interface. A more detailed description of each element can be find below.
The Dashboard is always displayed when you log in and it gives you an overview of the latest activity in the community and quickly lets you navigate to other pages of MyConfigura.
Clicking the Briefcases tab takes you to the community where you can collaborate with co-workers or colleagues.
You can view information about your licenses and edit or add information to your profile in the My Account tab.
Dashboard
The Dashboard is the start page that is always displayed when you log in to MyConfigura. The feed shows the latest activity in your Briefcases and Forums and lets you interact by liking posts, saving them as favorites or commenting on posts.
From here, you can easily reach other pages on MyConfigura or go to the official Configura website.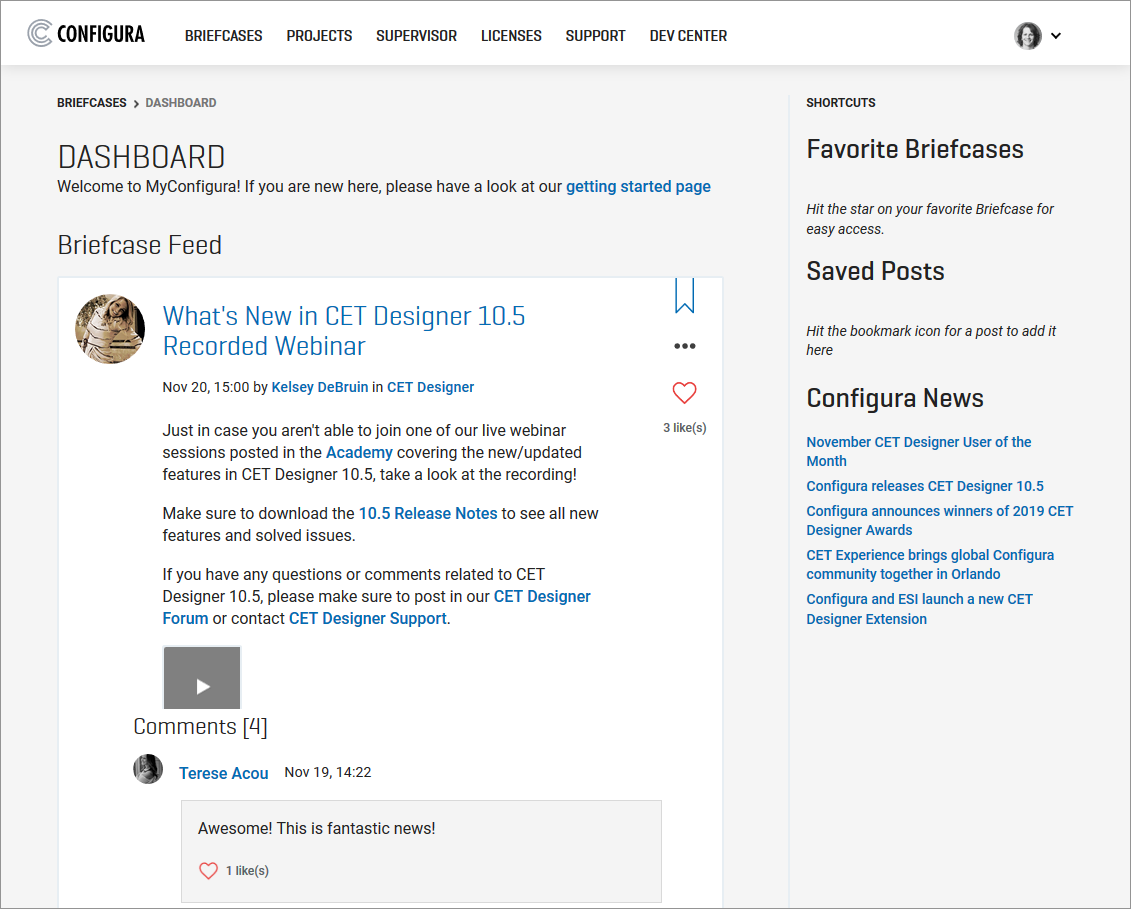 Briefcases
A Briefcase is a place where a specific group of people interact with each other regarding specific topics by posting information and comments, and sharing files.
Each user has free storage space of 1 GB for uploading files, including drawings, PDF files, images, or videos.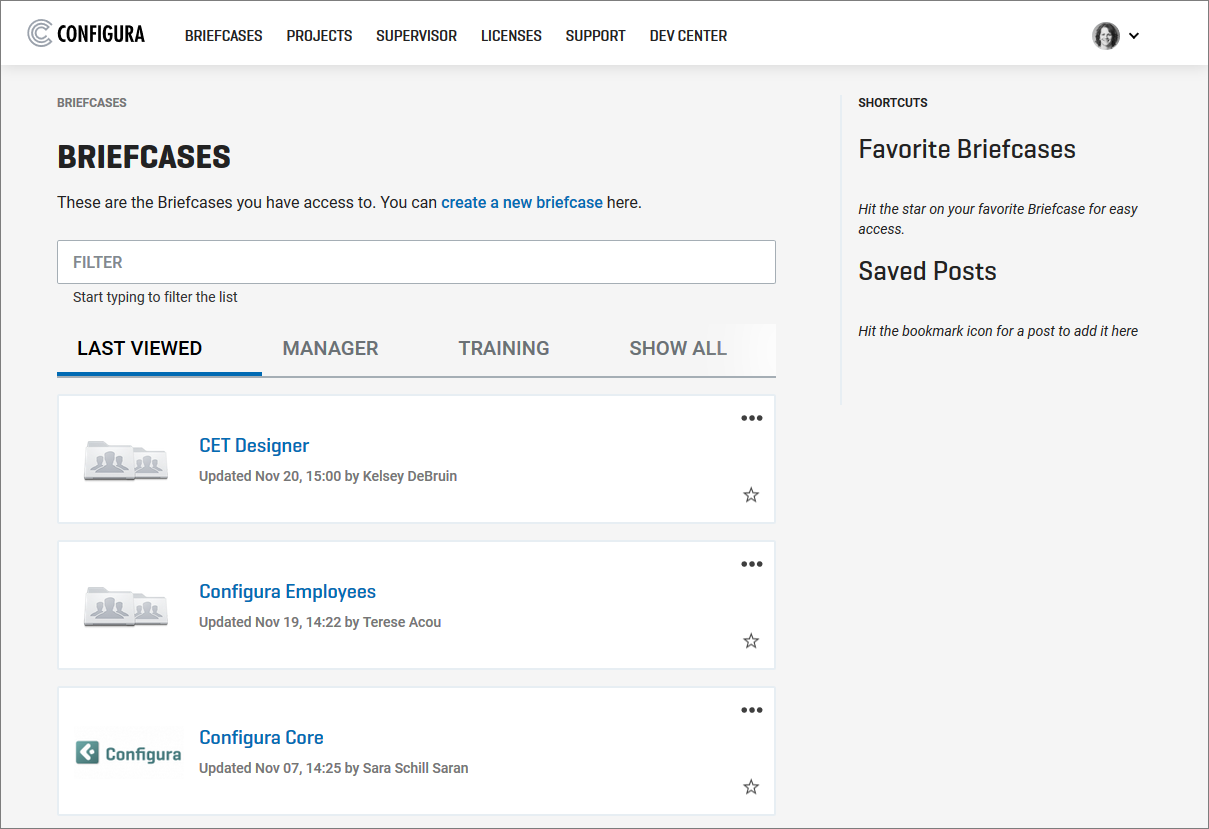 Each Briefcase has one or more Briefcase manager(s). The Briefcase manager can invite people to the Briefcase. As soon as the invited person has created a MyConfigura account, they can start collaborating. All contents in a Briefcase are exclusive for the Briefcase members and no one else can access it.
To create a briefcase and invite members, follow these steps:
Click the blue Create a new briefcase link.
Enter a name and a short description. You can also upload a logo.
At the bottom of the form, there are two checkboxes that you have to select if you want members to be able to comment and/or post in the briefcase.
Click Add to create the briefcase.
Click the blue New post button to add your first briefcase post.
Invite people to join your briefcase by clicking the blue Members link to the right, and then click the Add member button. Here, you can also add other Managers.
Enter one or more email addresses, separated by commas, to invite members.
When you are in a briefcase, there is a blue Settings link to the right with options to edit the briefcase, manage notifications, and to leave / delete the briefcase. You can also specify whether or not users should be able to post or comment in the briefcase.
Your briefcase notifications are shown in CET. Simply click the Briefcase button and you will be shown the last 5 messages: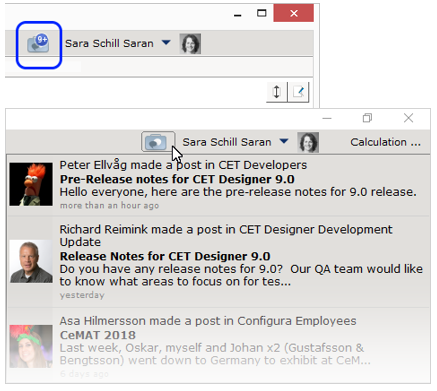 My Account
To go to your account page, select My Account from the menu in the top right corner: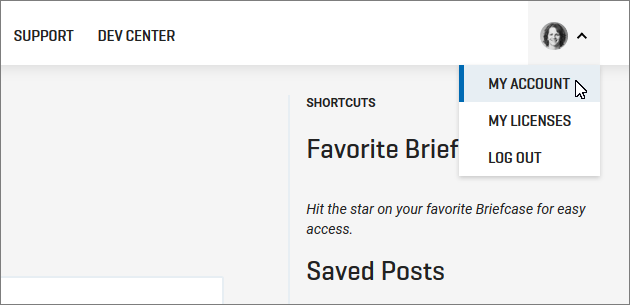 Here, you can update and change your Account information at any time by editing your personal information, adding a profile picture, managing your briefcase settings, downloading CET, and much more.
The Notifications settings let you control which email notifications you receive from MyConfigura.
Under Licenses, you will find up-to-date information about valid licenses and Extensions that you run. There is also a Downloads section where you download CET, as well as related documentation.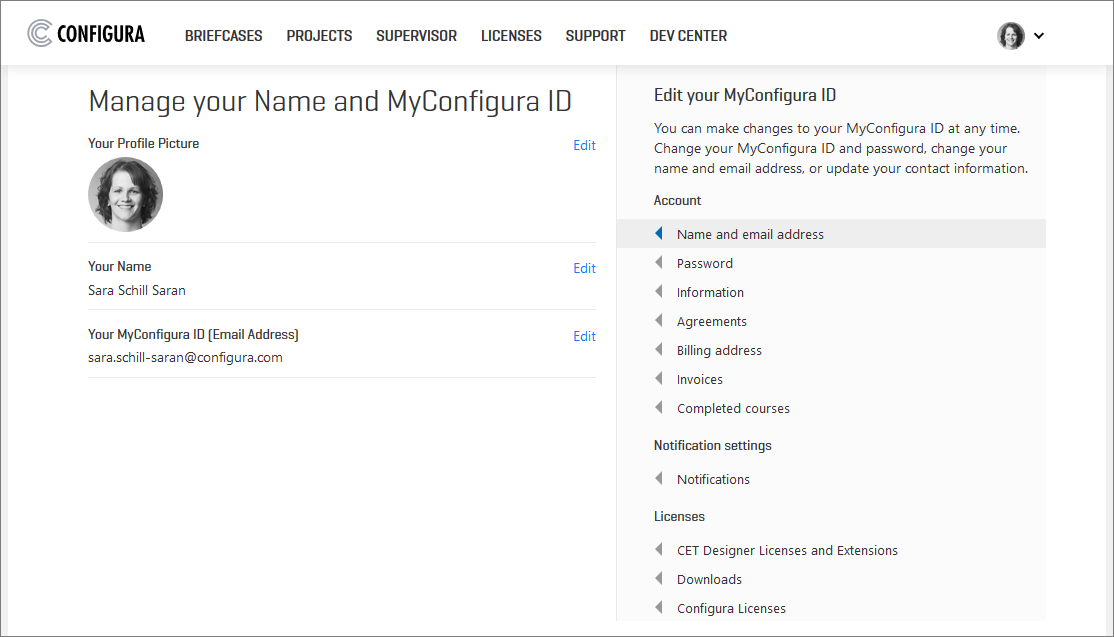 Support tab
The Support tab provides easy access to support related material, such as video tutorials, webinars, and downloadable material.