Kitchen Reports
Now that the Kitchen is all set up, it's time to generate some reports for your client :)
Head over to Paper View, and you will find a dedicated component tab for Essential Kitchen EU called Kitchen Reports.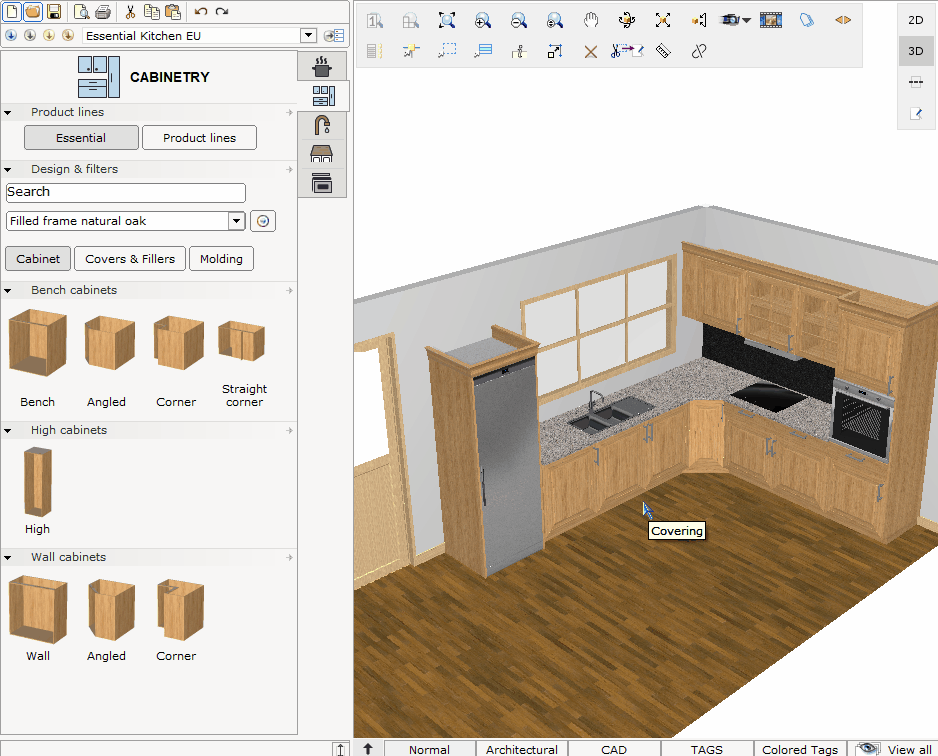 Producing Auto Papers
Kitchen Reports also brings you Auto Papers. As the name entails, this tool will generate the reports for you, either with the default Presets or you can configure your own Presets!
Simply tick the checkbox for your desired papers and click Produce Auto Papers. Et voilà!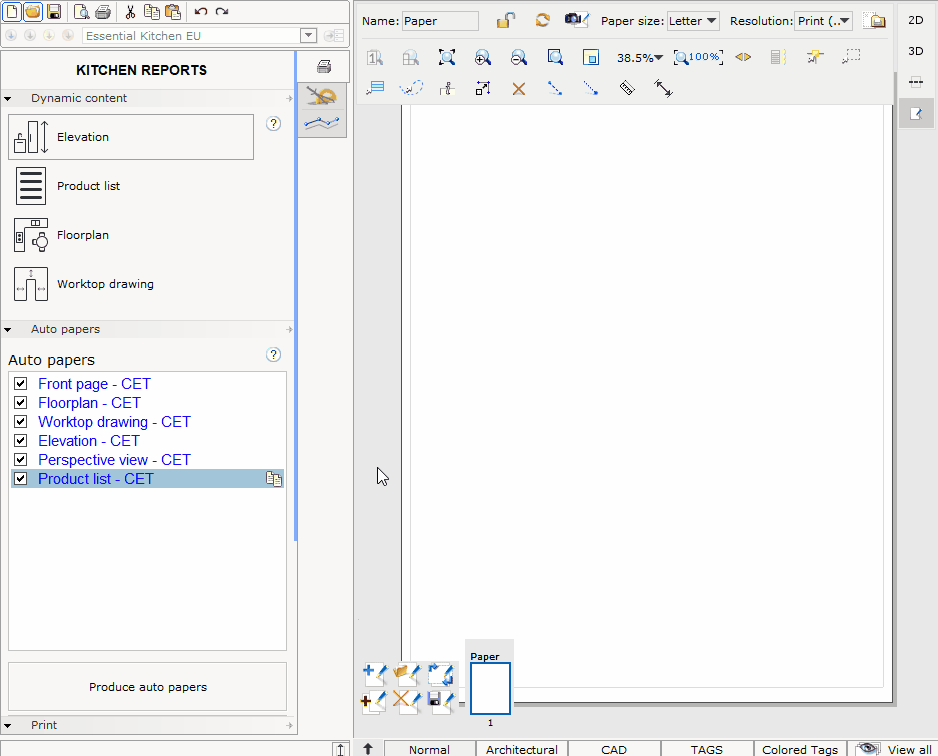 If you have existing Papers in the Thumbnail Area that you had manually created, hitting Produce Auto Papers will add the Auto Papers to the end of the list.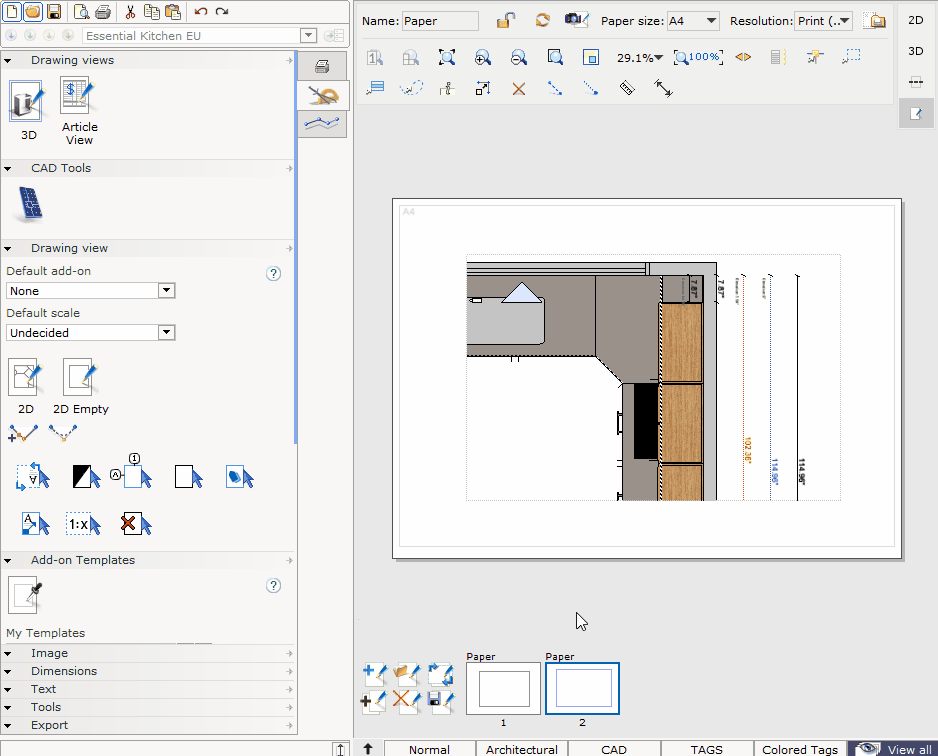 Default Auto Papers Preset
All the default Presets offered are followed by "CET" in the title. That way, you won't get mixed up :)
*These default auto papers are not removable. However, you can duplicate them (click on paper icon) for modifications.
*The dynamic fields on default auto papers (Customer/Salesman information) extracts information from 'Project Information'.
Here's a summary of what they do:
Front Page - CET: Every Report needs a Front Page. Here you will find our Configura Logo!
Floorplan - CET: A Floorplan of your whole drawing.
Worktop Drawing - CET: A Plan view of your Kitchen Worktops.
Elevation - CET: An Elevation View of your drawn Kitchen.
Perspective View - CET: Although it may look like a 3D Viewport, it is slightly different. Perspective View follows your last camera angle when you were in your 3D Drawing View. If you don't like the outcome, you can always return to your 3D View, change the angle, return to Kitchen Reports, and click Produce Auto Papers again to refresh!
Product List - CET: Unlike Article View, where you can choose which Article/Calculation to display, Product List simplifies that. With Product List, you only get the columns: Part Number, Options, Description, Complete, Quantity, and List.
Check out this article on what those columns mean: Column Descriptions.
Setting Up Your Own Auto Papers
Auto Papers only works with the Dynamic Contents you see in the Kitchen Reports component tab.
Insert a New Paper from the icon
Choose any of the provided Dynamic Contents to your liking.
Once you have arranged your desired layout, click Add Current Paper to Auto Papers.
Add a Name for your customed Auto Paper. This will be saved as a Reusable File that is saved in the Default Directory (CET Documents > Auto Papers).
Can be configured in Report Settings
Tick the Checkbox of your created Auto Paper and other papers that you wish to generate.
Click Produce Auto Papers.
Profit!
Kitchen Report Settings
At the bottom of the component tab you will find a Report Settings and an Email Settings.
Report Settings
Here you can change the Default Directory for your customised Auto Papers and a couple other things such as Update Auto Papers on Export.
If you have a Perspective View Auto Paper checked, make sure you have set your desired camera angle in the 3D Drawing View before printing.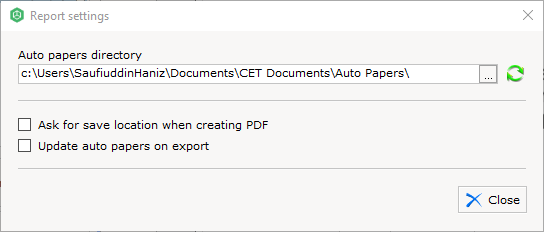 Email Settings
This setting is similar to the one found in the Print dialogue box. You can learn more about it here: Sending a Report as an E-mail.