Ever get bored of just importing Kitchen cabinets through SketchUp or AutoCAD? Do you want a more customisable model tailored to your preference?
Well, fret not. Configura now brings you Essential Kitchen EU. With this Extension, you can use it to complement your drawing in creating a complete Kitchen layout.
Ensure you have the extension's license of 'Essential Kitchen EU' added from the marketplace, also it is recommended switching CET into 'Kitchen and Bath edition' before you begin!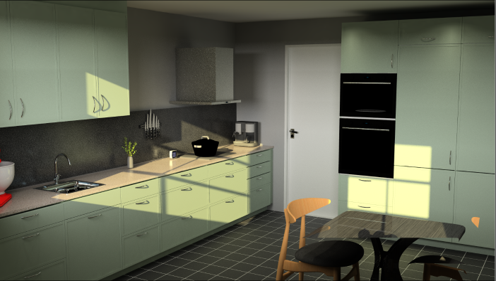 Overview
Here is a rundown of what we have to offer.

Essential Kitchen EU comes with 5 component tabs:
Essential Kitchen EU — Like our Fika Extension, this is the main home tab where you can specify the Project's Information.
Cabinetry — A variety of Cabinets to get started, along with Fillers and Mouldings.
Handles — Choose among a selection of handles for the doors / shelves of your Cabinets.
Sinks and Taps — Common sink layouts and Tap designs.
Worktops — Worktops to complement your Cabinets.
Appliances — Your everyday Appliances that are found in the Kitchen :)
Kitchen Reports — Tools to help out with your titleblocks creation in Paper Space.
Layout
The general layout for each Product tab consists of 3 sections:
Product Lines — Choose between Configura's Essential Products or Manufacturer-specific Products (Coming Soon)


Design and Filters — Consists of a search tool to quickly find your desired Product, and a Scheme Preset


Products — Contains the Products based on the respective component tab.