To get started on the visuals, here is a list of suggested workflows:
Set up Cabinetry layout
Specifying Cabinetry options
Adding Worktops/Soffit/Backsplash
Sinks and Taps
Selecting Appliances
Adding Covers and Moldings
Set up Cabinetry layout
Once you have your Kitchen area set up, you can start placing your cabinets. Proceed to the Cabinetry components tabs and choose among our various cabinets!
It's recommended to draw the entire kitchen in 'Group Select' mode unless specific repositioning of individual cabinets are required.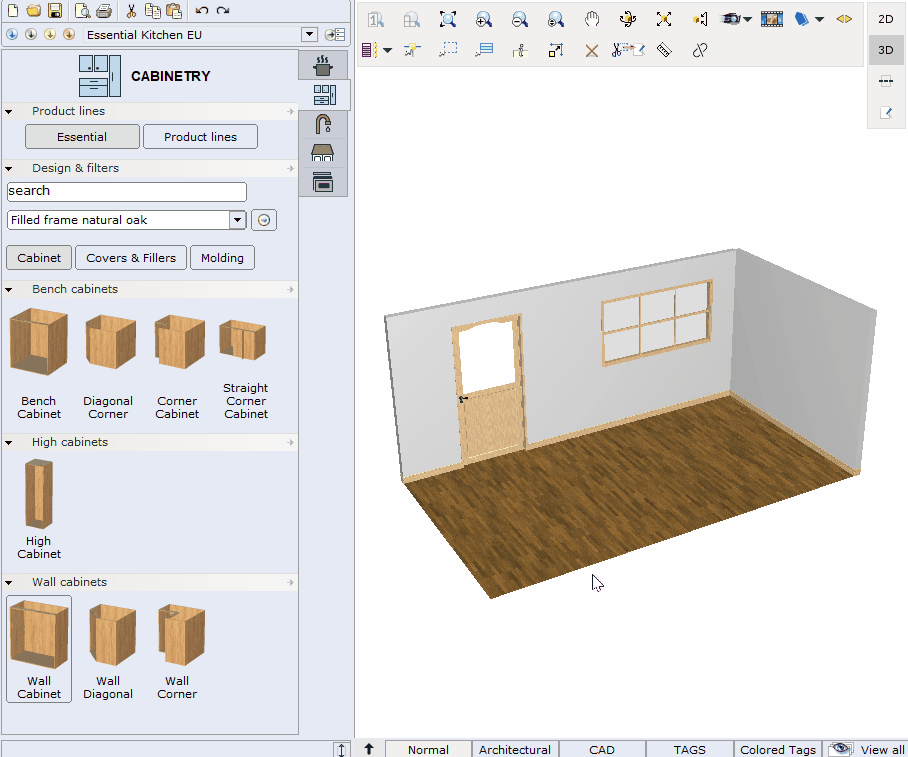 Quick Properties — During Product Placement

Elevation Align — Choose your desired Product elevation.


Wall L/R — Distance from the left/right side of the Product to the wall.


Wall Gap — Distance from the back of the Product to the wall.


Face — Orientation of the Product when snapping to another cabinet.
The Wall L/R and Wall Gap options will only appear when placing Products next to a wall.
When creating a kitchen island, you will see the
L/R
and
F/B
options in the Quick Properties, which are used to offset the Products from Left to Right and Front to Back.

Quick Properties — After Product Placement
The initial Quick Properties will only contain options to specify the Product Dimensions, Materials, and the option to disable the Auto Measurement feature (On by Default).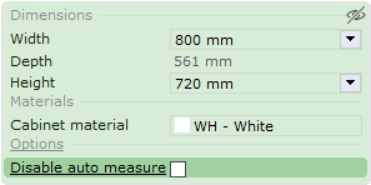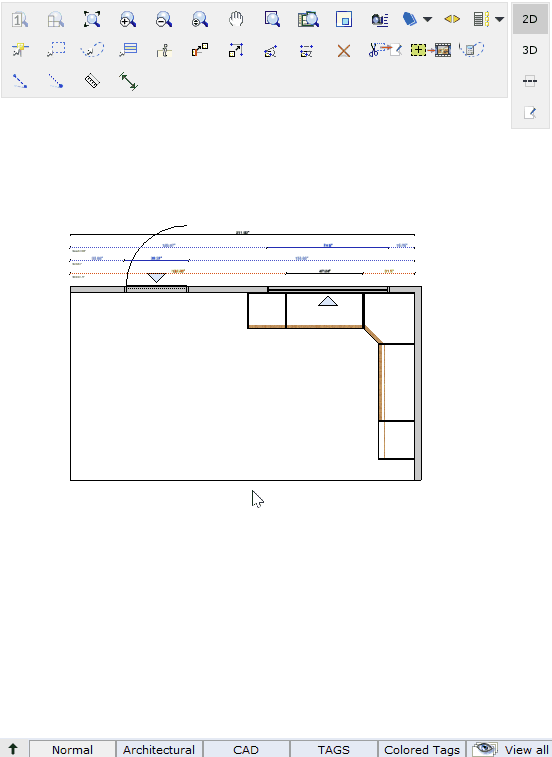 Specifying Cabinetry options
Now it's time to select the options for your Cabinets! Simply double-click the placed Cabinets, and a Chooser dialog will pop up with various options at your fingertips.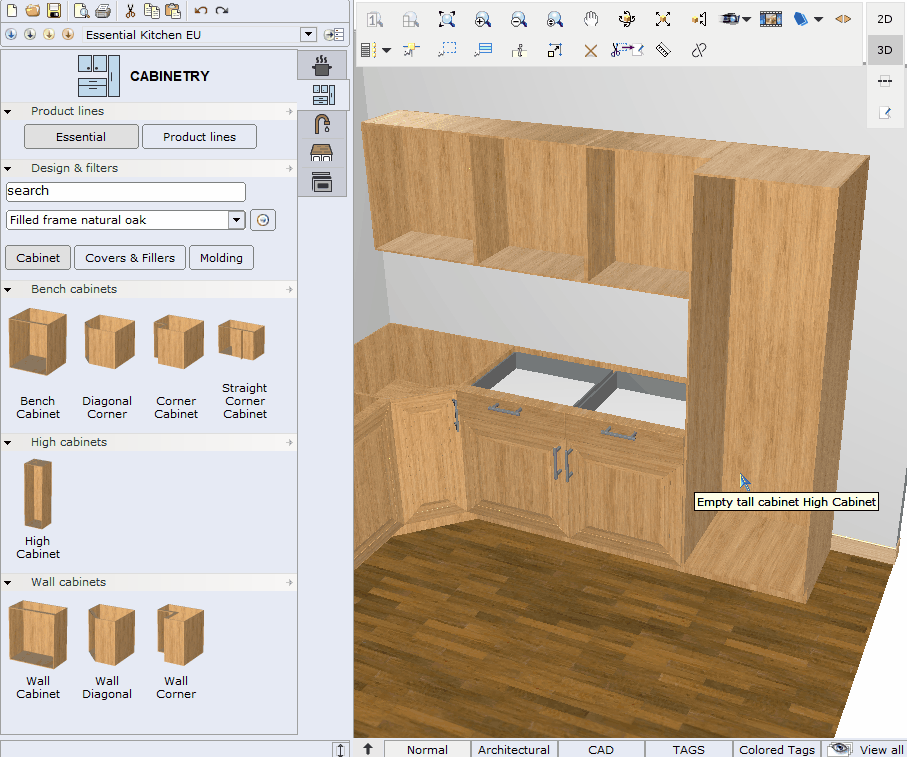 A quick tip: Some Features are shown/available conditionally. Try stretching the Cabinets to see what's in store 😉
Adding Worktops/Soffit/Backsplash
We are not entirely done yet. Let's try adding a Worktop, a Backsplash, and a Soffit.
A Soffit is similar to a Worktop but is placed under Wall Cabinets. That way, you can make it look as if it is one piece.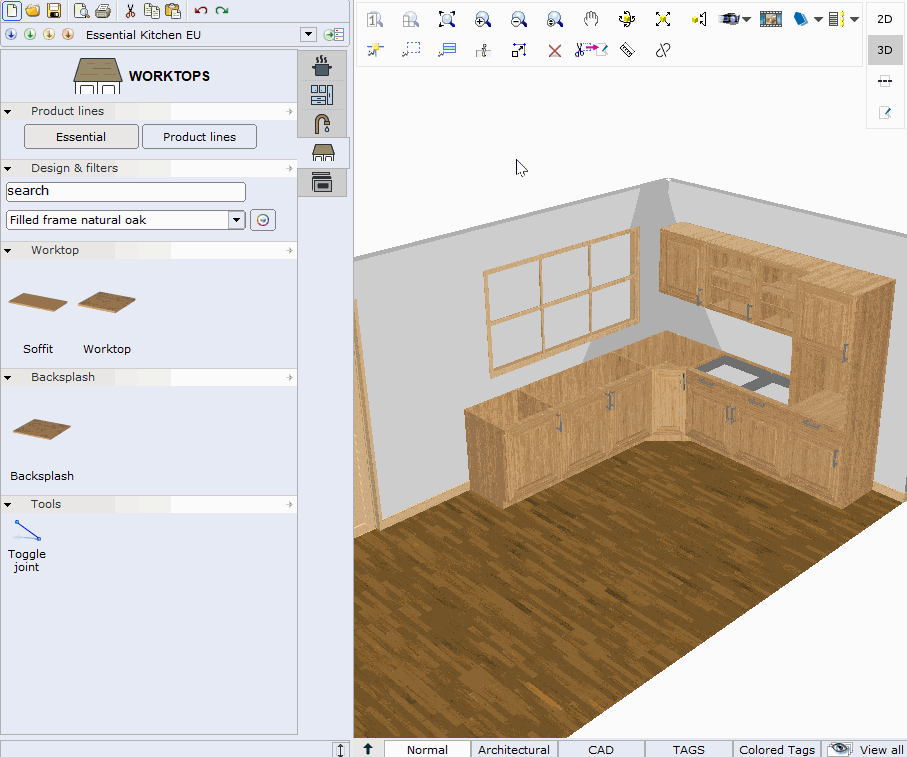 You also have the option of adding downlight to the Soffits.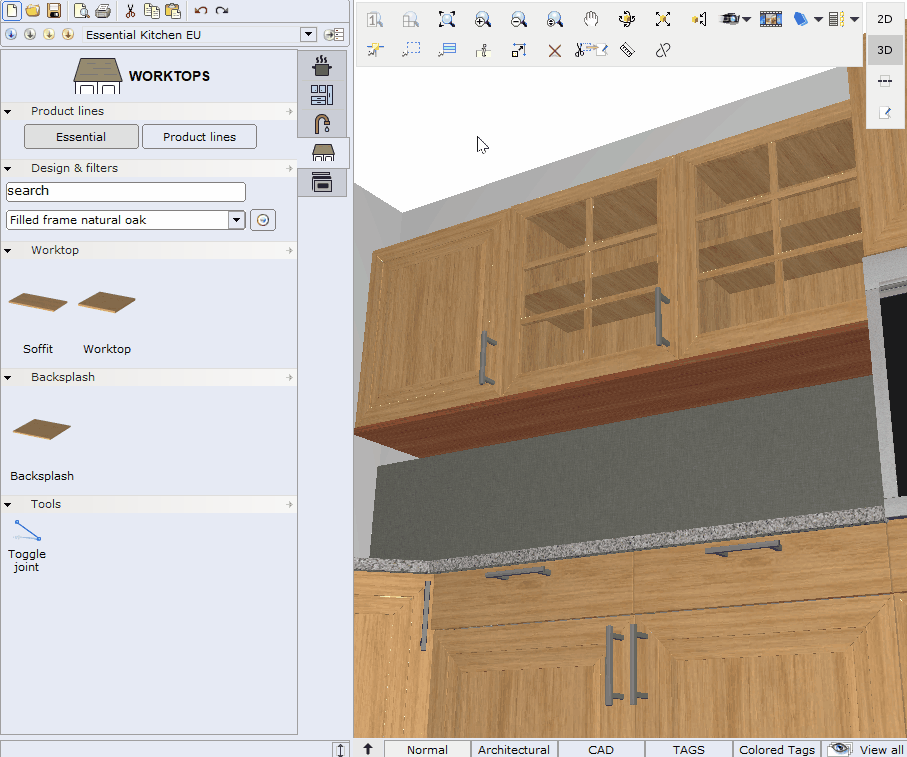 The number of downlights will automatically populate based on the length or number of Wall Cabinets attached.
For ease of actual installation purposes, or if you want to have different worktop materials, you can have the Worktop split by joints using the Toggle Joint tool.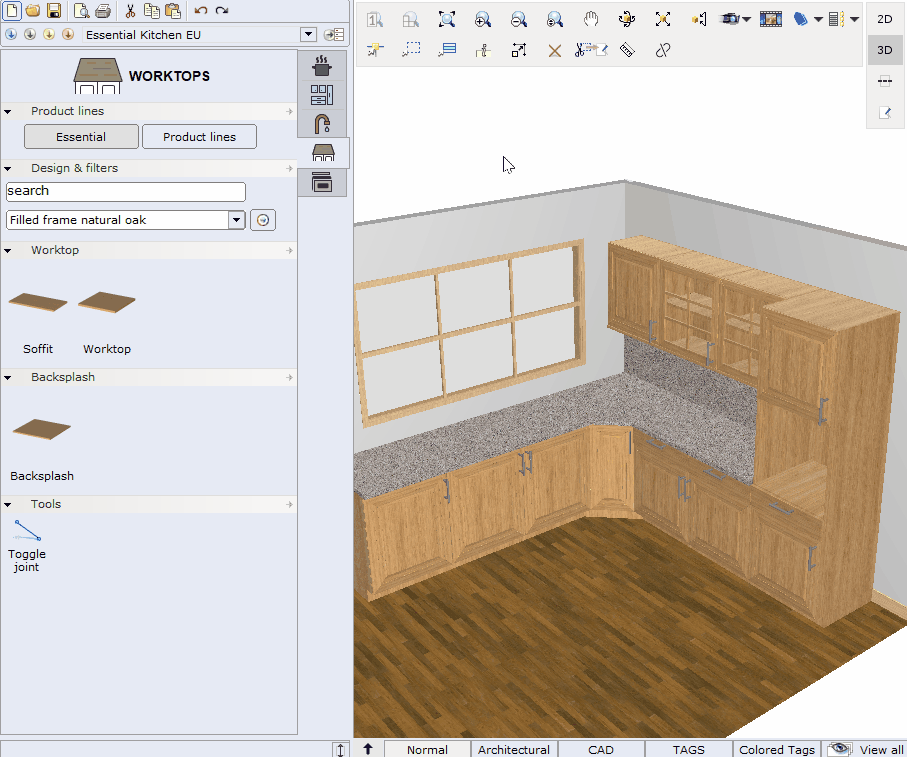 Sinks and Taps
Do you want to design a Dry Kitchen or a Wet Kitchen? Don't worry, we got you covered :)
In the properties, you can change the alignement or flip orientation of the bigger sink if you wish to.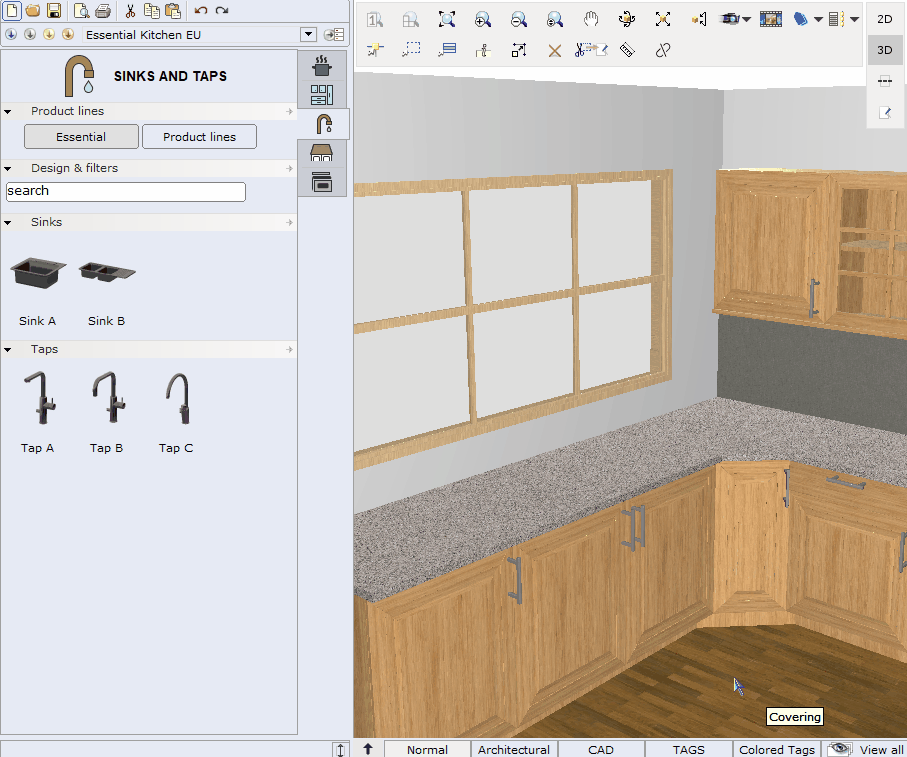 Selecting Appliances
Machine, "anything that reduces human effort". Well then, let's get those squared away!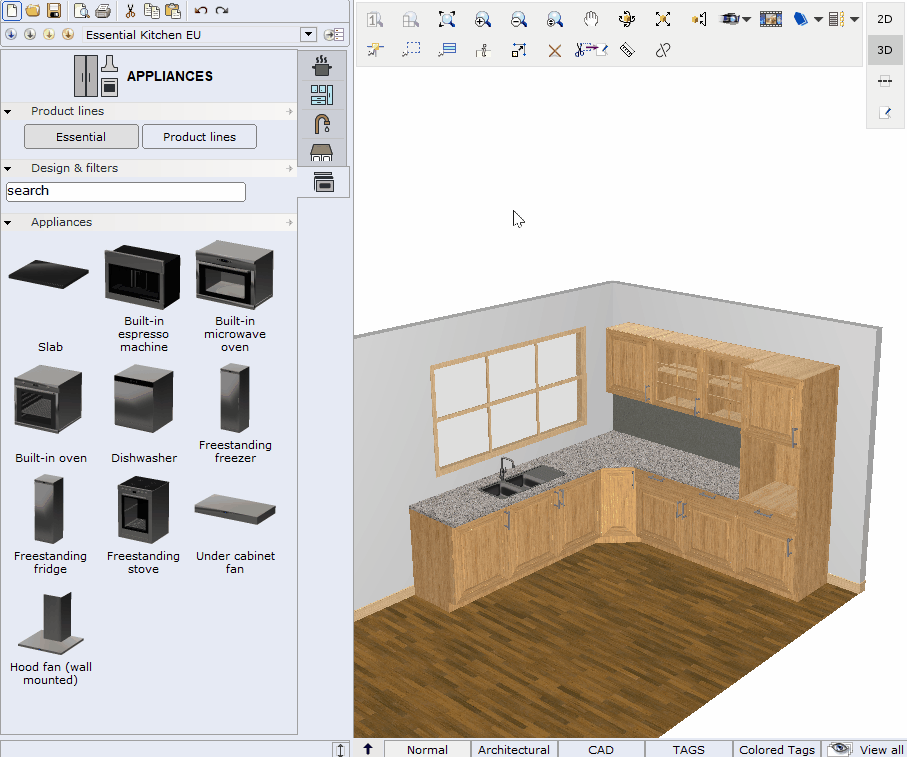 Adding Covers and Moldings
You can use Coverside to complement your Cabinetries.
Here is a workaround to cover up the other side of a snapped Fridge. Disconnect the fridge from the Cabinets, add the Coverside, and then snap the fridge back to the Cabinets.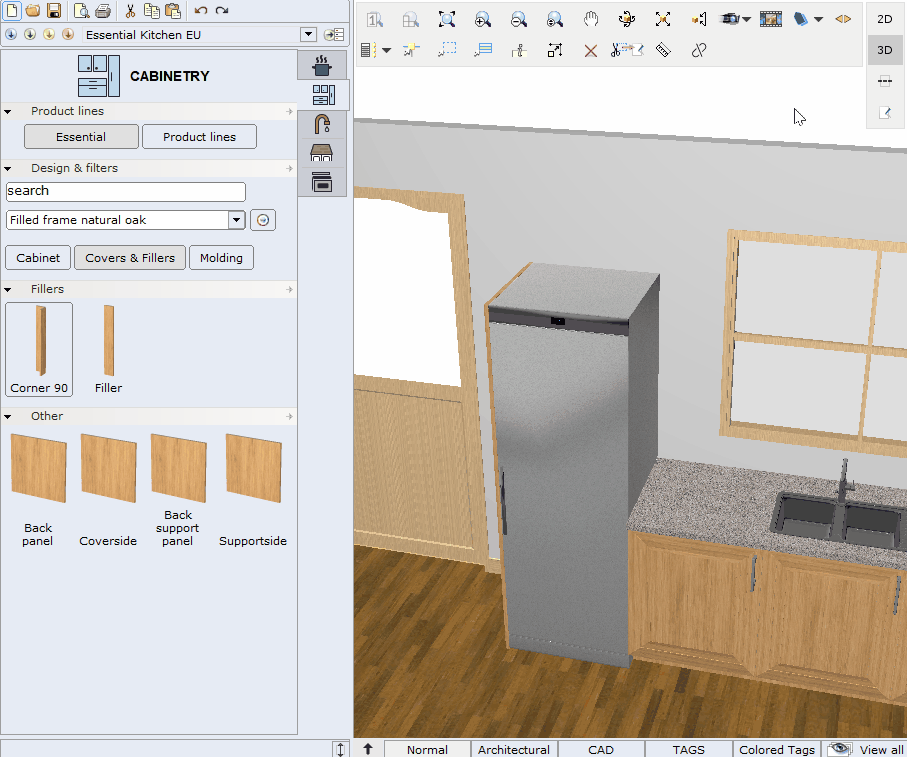 We also have Fillers to fill up the gaps between Cabinets to Walls.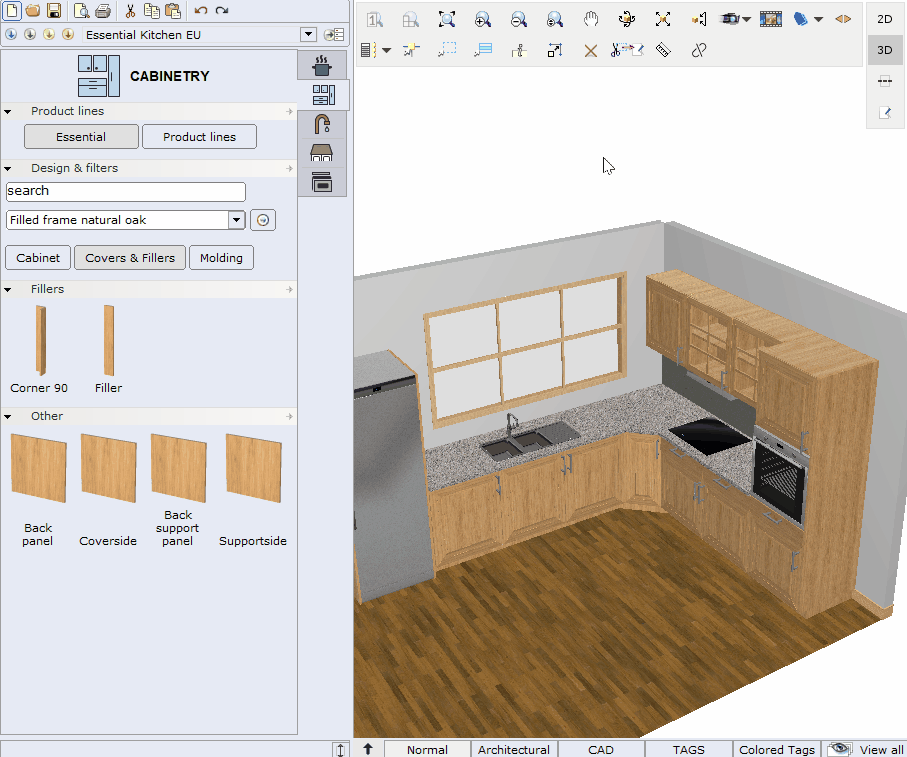 Let's not forget the top. If you love cornices, then you will love this.