The Scheme Explorer is used to navigate through all Scheme Managers found in all of your Extensions and Catalogues to minimize switching tabs constantly when applying finishes. You do not need to be in a particular component tab to be able to option out products from that tab. 
From any Scheme Manager, click on the Scheme Explorer icon: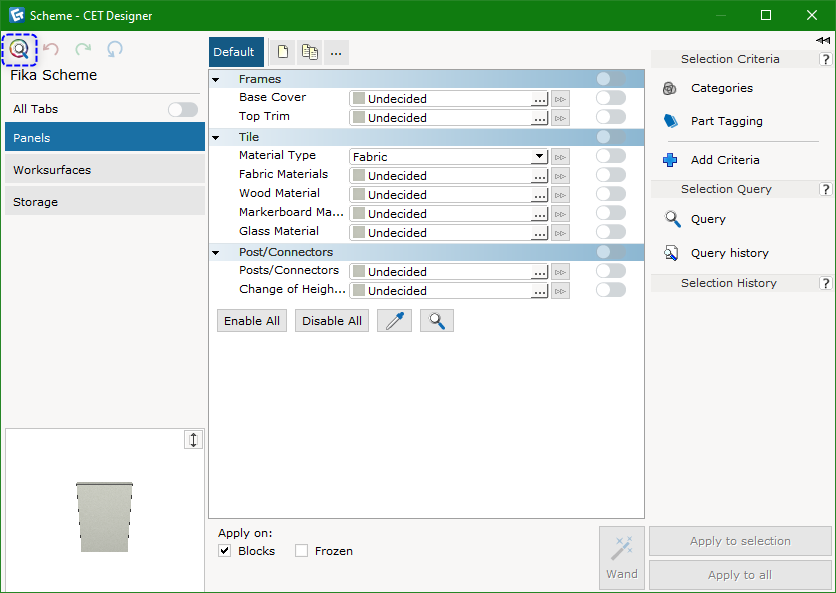 All Extensions/Catalogues have cards showing the number of Scheme Managers that can be found in them:

Catalogues Embedded in an Extension do not require the Extension to be installed, only that the Catalogue is enabled from the
Catalogue Details window
of the Catalogue Browser. This makes it easier for Catalogue Creator users.
Back
Click the blue return arrow to go back to the Scheme Explorer home or the Scheme you were last in.
 Recent Schemes
Up to 6 cards of the most recent Scheme Managers you have visited are stored here so that it is easy for you to return to your work. Just click one of the cards to return to that Scheme Manager.
Extension Schemes
All Extensions you have installed that contain Schemes have cards here and show the number of Scheme managers included. Click on the name of the Extension to see all Schemes inside.
When you click on a card, you will see cards for all associated Scheme Managers, and a path shows at the top to track which cards you took to get to your current location:

Furthermore, you can quickly embed all your Schemes onto your drawing with the help of the Auto-embed all toggle. This will save you time from going into each individual Schemes to have it toggled.
 Import/Export
Import or Export Schemes from multiple Extensions and Scheme Managers at once. 
Individual Schemes are saved as .cmScheme, whereas
Group/Bulk Schemes are exported as .cmSchemeZip (Previously known as .cmSchemes)
Export
When you export from the Scheme Explorer, you will be prompted to check the boxes of the Schemes you want to include in your .cmSchemeZip ( Old Schemes files such as .cmSchemes are still supported) file. The list consists of all Schemes that you have made during the current session of CET: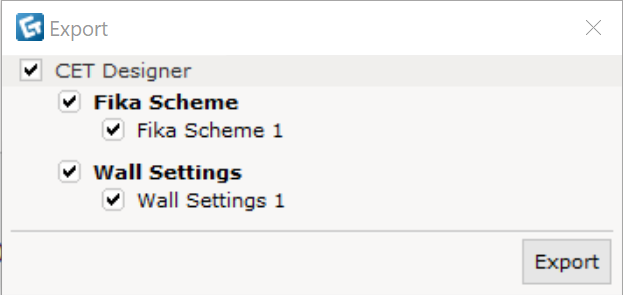 This is different from Saving in a specific Scheme Manager because you can save multiple Schemes at once instead of just the current selected one.
Import
When importing a .cmSchemeZip (Previously known as .cmSchemes) file through the Scheme Explorer, all cards containing a Scheme included will turn yellow to signify that a Scheme has been imported in that Manager:

The cards will remain yellow until you click on the card to see the imported Scheme.
Once you are in the Scheme Manager, the tab of the imported Scheme will also be a pale yellow color until you click it:

Scheme Painter
This will open up the Scheme Painter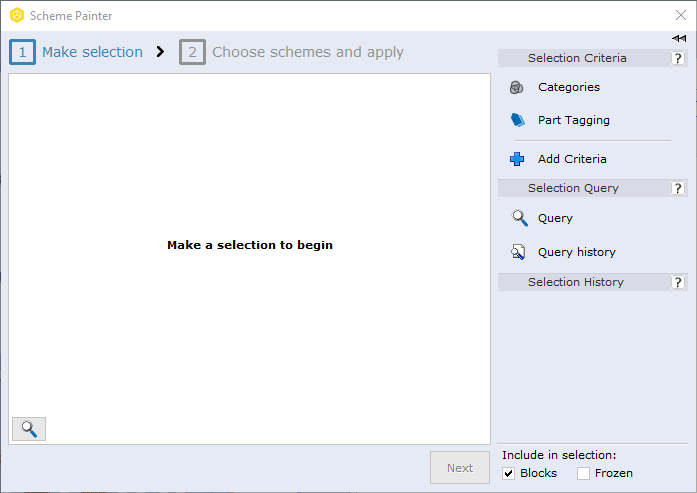 Open Folder
This will open up your default Schemes Save Location that you specified in the Scheme Settings.
By default, it is saved in CET Documents > Schemes.

Search
Type the name of a component tab or Extension to filter through all Scheme Managers.