Categories are used to control visibility in your drawing. Objects are automatically assigned categories, but they can be added or removed. Similarly, when objects are placed in a drawing with multiple levels, they are automatically assigned to a level.
Use the Levels tab in the Categorization dialog to see which level an object is assigned to or to change it to another level. Access the Categorization dialog from the Tools drop-down menu or right-click on an object and select Categorize from the context menu. You can also access it directly from the Architectural component tab by clicking Level categorization ...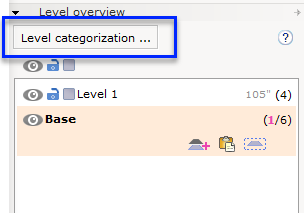 Keep
level categorization
open while you work with multi-level buildings. This way you can make sure that objects stay on the correct level as you continue to work.
Placing components on a level
A level will automatically be decided when placing objects. If you are placing an object in the 2D view, it will belong to the active level. The active level will have a black outline around its name in the level buttons along the bottom of your drawing view. In this case, Level 2 is active:

If you are placing an object in the 3D view, the object will intuitively find the level you are hovering over. You will see it appear on the correct level, and once placed, it will be categorized to that level. Note that after placing on object on a level in 3D, that level now becomes active and is outlined in the level buttons at the bottom of your drawing view.
Moving components to a new level
The level an object is assigned to is indicated in the Levels tab with a checkmark. The check marks can be either gray or black. Gray checkmarks indicate the default, automatic level an object belongs to. Click any box to add or remove an object from that level. This may be necessary when you have moved a component to a new level. Changing it visually in your drawing does not always change accordingly in the Categorization dialog.