Recent drawings
The quickest way to open a drawing that you have had open recently is through the File menu in the Drawings section: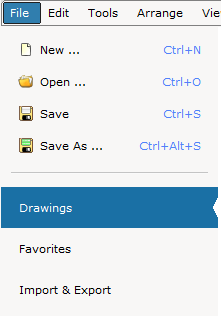 Drawings that you have been working on will be listed here. You can also easily access backups from here from the Show backups checkbox:
Opening a drawing
Use the keyboard shortcut Ctrl + O to open the Load Drawing window.
To locate and open a saved drawing, follow the steps below:
Go to the

File

menu and select

Open, or click on the folder icon in the toolbar at the top-left of CET above the Component Tabs area . The

Load Drawing

dialog box opens:

Browse to the desired drawing by using one of the following options:
Look in: Click through the folder structure in the drop-down menu.
Desktop: View all drawings saved on your desktop.
My Computer: Navigate through folders on your PC.
My Documents: Navigate through folders located in My Documents.
Recent: Browse drawings that recently have been opened.
Autosave: Find a drawing that has been automatically saved.
Downloads: Browse through drawings that have been recently downloaded to your computer.
My network places: Open Window's network places.


In the Load Drawing window, right-click and select Find backup to search for backups of the selected drawing.
Select the file and click

Open

or double-click the file name.
You can choose how to display your drawings in the Load Drawing dialog box. The following options can be selected:
Sort files by name:

The files will be sorted in alphabetical order. This button is only visible when the files are ordered by date, see #1.
Sort files by date

: The files will be sorted by date. This button is only visible when the files are ordered by name.
Choose view:

Click the button in the top right corner and choose desired option in the drop down menu, see #2.
If you would like more information about a file, select the file and mark the Info check box in the bottom-left corner.


The Load drawing dialog
You can also open a drawing directly from Windows Explorer. Open Windows Explorer and select the file you want to open. Drag the file to the drawing area.
A drawing saved in an updated major version of CET cannot be loaded in an older version of CET.
For example, a drawing was created and saved in CET 11.5. The drawing then was opened and saved in CET 12.0. This drawing is now considered updated and cannot be loaded by any CET version below 12.0.
Closing a drawing
When you want to close a drawing in CET, go to the File menu and select Close. A dialog box opens with the question, "Save changes to current drawing?"
If you want to close down the program entirely, go to the File menu and select Exit, or click the red X in the upper-right corner of CET.