There are several options how to create text in a drawing. If you only need to create a short text, the easiest way is to add a label to the drawing. A label is a static text with reduced editing possibilities. There are no stretch nodes so it is easy to move without accidentally stretching.
Placing a Label
Follow the steps below to insert a label in a drawing:
Go to the

Tools component tab and select the Label tool in the Image and Text section.
Enter the desired short text and click the label in place in the 2D drawing area.




Continue to place additional labels, changing the text before clicking each time.
Once you are finished, press Esc on your keyboard, or move your cursor outside of the drawing area to escape the command.
Editing a Label
To edit the properties or the text of a label, select the label in the drawing area. A properties box appears: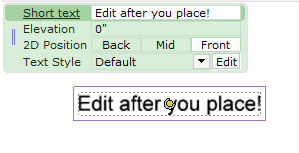 Short text: Edit the existing text.
Elevation: Arrange order of 2D shapes in the drawing view.
2D Position: Show 2D shapes in front of or behind other objects in the 2D drawing view.
Text Style: Use drop-down to select a pre-defined style or click Edit to customize Font, Font Height, Font color, and more. Choose between different text styles that you create in the Style Editor.
Making local changes to the currently used styles will not affect the
Styles
you have created in the
Style Editor.