The Image tool enables you to insert images into the 2D drawing view or Paper View. It's an easy way of including a logotype or other kinds of images.

Drag-and-drop an image from your File Explorer into the drawing view in CET Designer, or follow these steps:
Go to the Tools component tab.
Under Image and Text, select the Image loaded from file component.
Move the cursor to the 2D drawing view. An image component is now attached to the cursor.
Click twice to place a frame in the 2D drawing view.
Release the component by moving the cursor outside of the drawing area or pressing Esc on your keyboard.
Double-click the frame. An Open dialog appears.
Browse for the desired image, select the file and click Open. Alternately, you can drag a file from your computer and drop it within the frame.
Click and drag the yellow snap points

to adjust the size. If the image must be at a specific scale, you can use the

Measure and scale

tool.
Selecting the image brings up the properties box where you have the following options: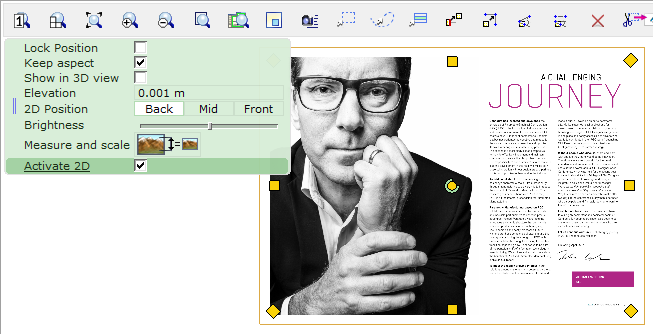 Lock position: Locks the image's position to prevent it from being moved accidentally.
Keep aspect: Locks the aspect ratio of the image; preventing it from getting distorted when stretched.
Show in 3D view: Shows the image as a flat surface in the 3D drawing view.
Elevation: Height above the floor.
2D Position: Set the image visibility in the 2D drawing view. Front means that it will always be on top, while Back will set the image behind all other 2D objects.
Brightness: Increases or decreases the brightness in the imported image in the 2D drawing view.
Measure and scale: Set the scale for drawings that you have imported as images.
Activate 2D: When checked, you can snap certain tools (lines, walls, dimensions, etc.) to some lines within the image.
Supported file formats for images are: bmp, gif, tif, jpeg, pdf and png. CET Designer supports image transparency as seen in the .png and .gif image formats.
You can easily change the image within the frame by dragging an file from your computer and dropping it onto the inserted component.