The leftmost part of the Photo Lab window is the Photograph setup area. Here you can set quality, size, lighting, and other settings for the appearance of a rendering. Below, you will find links to each of the features in the Photograph setup area. Each feature is explained step-by-step and examples on how to use it is provided. It is important to remember, however, that all the different features interact to create a photorealistic image.
Photograph setup features in advanced mode: Render mode, Render quality, Image dimensions, View mode, Levels, Camera, Lighting & Shadows, Ghost rendering, Outline overlay and Background. Please note that some features are only available when the advanced graphics engine is being used. This is specified for each feature respectively.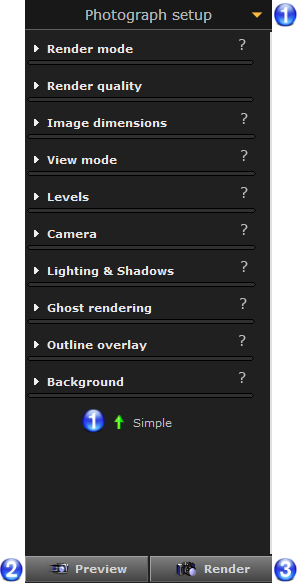 Simple mode
Switch back to the Simple mode from the bottom of the section, or by clicking the orange arrow next to the header and select "Go back to simple mode."
Preview button
Clicking the Preview button generates a quick render of the photo to give you an idea of the final result. This is faster but does not represent to full quality of a rendering. Previews can still be saved.
Render button
Clicking the Render button generates a rendered photo using current settings in the photograph setup area. After clicking this button, it changes into a Cancel button and can be clicked to cancel a rendering in progress. Clicking on Render will also open the Render tasks dialog.
Render tasks
The progress of a rendering can be observed in the Render tasks dialog, which opens as a separate window. You can start multiple renderings and they will all appear in the render tasks list. The dialog will appear automatically when a rendering begins. It does not to remain open while renderings are in progress. It can be reopened at any time from the Tools drop-down menu in the upper right hand corner of Photo Lab.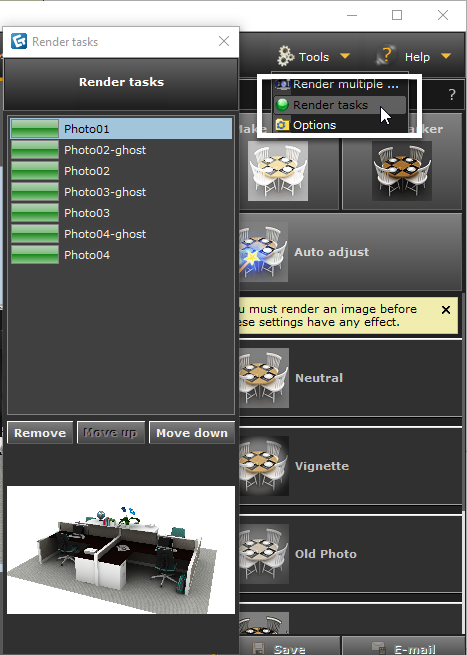 Render tasks list
Settings from the Advanced mode can be saved as a preset that will show in Simple Mode.