On the Graphics tab, you can view the graphics card information being used in CET and adjust settings to determine its appearance in the 3D drawing view.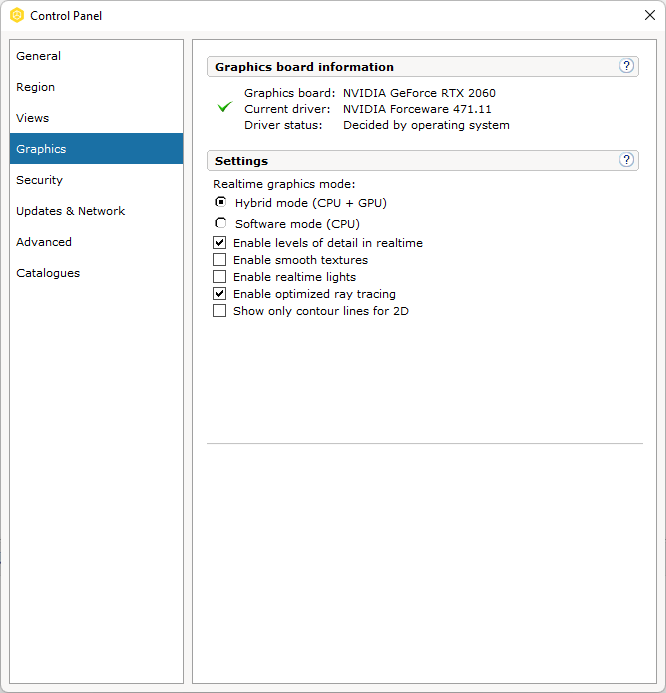 The Graphics tab in the Control Panel uses the advanced graphics engine


Graphics board information
This section lists which graphics card(s) CET has detected on your computer, which driver versions they are on, and the status of the drivers.
Driver status is indicated as one of the following:
Recommended
Newer than recommended
Decided by the Operating System
Make sure you are using the OEM recommended driver
Not recommended
The driver has known errors
No driver installed
Settings
Realtime graphics mode:

Hybrid mode: Allows the Graphics Engine to utilise both the CPU and GPU. Use this mode to get maximum performance when working in CET. Set as default.
Software mode: Only allows the Graphics Engine to use the CPU. This mode lets you load drawings even if your computer does not fully meet the system recommendations or if your graphics card has faulty drivers. However, the CET Features will be limited.
For more information, click here.

Enable Levels of Detail in realtime: Allows different Levels of Detail for models in realtime, hence increasing the drawing's performance. This option is Enabled by default.
Enable smooth textures: Makes the textures smoother in realtime and eliminates

Moiré effects.

Enable realtime lights: Enables constant updating of light across your visible 3D scene.
Enable optimized ray tracing: Makes rendering in the Photo Lab faster. This option is Enabled by default.


It could occasionally cause unwanted image artefacts to become visible, in which case it can simply be disabled.

Show only contour lines for 2D: Removes all color fill from the objects in the 2D view and only shows their contour outlines.
Enabling smooth textures and Enabling realtime lights can decrease speed and performance for larger drawings.
Enabling realtime lights can cause your 3D drawing view to be black if no
lights
are placed in the drawing.