There are several predefined light setups available that differ in the number and the type of light sources that can be manipulated. After selecting a light setup, the settings can be adjusted by moving the sliders to the left or to the right to quantify the effect. Specific numerical values can be typed into the right of each slider. The selection of available predefined light setups is affected by which Extensions are currently installed.
It is also possible to simulate the light at different times of the day by changing the direction and pitch of the sun. Click-and-drag the sun symbol in the circle to stretch and rotate. The pitch determines the height of the sun (90 = shining straight down; 40 = mid afternoon; etc).
Check Enable realtime lights just below the Preview area to see in realtime how the light changes when trying out different settings.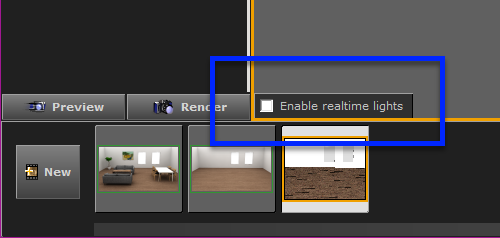 Do not check this checkbox while working on larger drawings with many light sources as this will slow down the 3D graphics.
It is best not to have it checked while working on anything besides lighting and rendering.
Checking this box in a drawing with no lights can cause your 3D drawing view to go black.
Checking the Preview shadows box will make the 3D view within the Photo Lab update instantly as you make changes to the settings for Lighting & Shadows. Unlike the Realtime lights setting, Preview shadows does ultra fast renders to show you not only the effect of your light settings, but also detailed shadow effects. Keep in mind, this will preview an extreme preview of the shadows. The final rendering will not be as dark as the preview appears.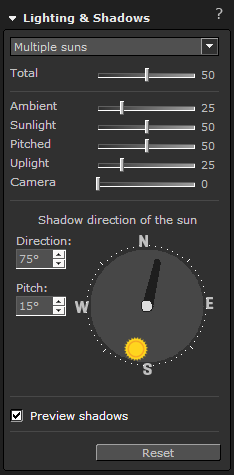 Lighting & shadow settings
Emissive Background
When Emissive Background is activated, it will make the background (panorama or just plain color) cast light onto the scene during photorealistic rendering. The color and intensity of the light is determined by the colors of the chosen background. Emissive background is only available when either Natural light or 360° with natural light has been selected as the Render Mode.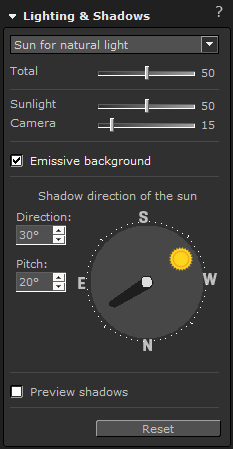 Emissive background settings
Using this feature might cause renders to become brighter, we recommend reducing the Sunlight and Camera light slider(s) to 0. Also, you may need to reduce the Total slider as well.