Navigating the browsing area
The left part of the Catalogue Explorer is the Browsing area. Here you can browse through Catalogues you have chosen to display from the Select Catalogues dialog.

Select a folder on the left, then browse by using the tree view.
You can filter the product shown in the Viewing area by unchecking the boxes to the left of a catalogue. For example, if you have a large amount of items in the Viewing area and do not want to see the Configura Characters at this moment, uncheck the checkbox next to the Characters catalogue in order to hide those objects in the Viewing area.
If you want to be able to access the catalogues without internet access, toggle the Available offline slider to ON. Please note that this has to be done while you have internet access in order for the catalogues to be synced for offline use. If you cannot see the Available Offline sliders, you may need to expand the tree view area. Hover over the bar between the tree view and the Viewing area until you see arrows. Click and drag the arrows to the right until you see Available Offline.
Bookmarks
At the top of the Browsing area, you will see the Bookmarks folder. Expand any catalogue, right-click on a the folder icon, and select Set Bookmark. The bookmarked folder will be copied to your Bookmarks, making the products easily accessible.
Only folders that do not have sub-folders can be added as bookmarks.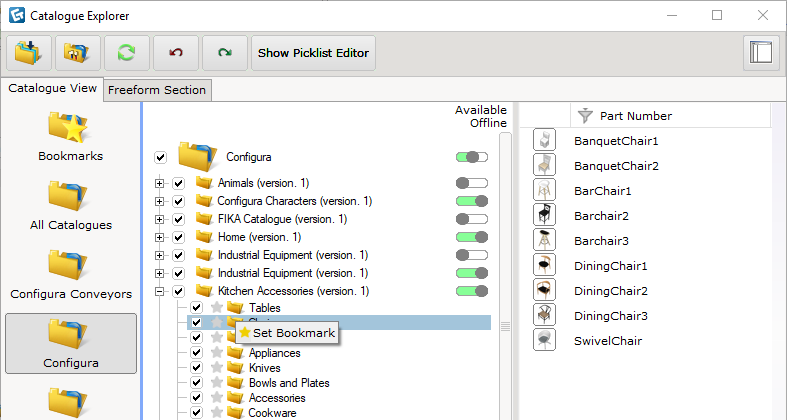 To remove a bookmark, simply left-click the yellow star to the left of a folder on the Bookmarks page, or right-click and choose Remove Bookmark.

There is also a Go to Location option on the Bookmarks page when you right-click. This takes you to the original location of the folder in the tree view. If the catalogue is uninstalled or turned off without the bookmark first being removed, the "missing bookmark" label is shown instead. Bookmarked items are saved as bookmarks.cmcbm in folder C:/Users/*/Documents/CET Documents/Catalog Bookmarks/
Setting a bookmark does not work for Catalogue Creator projects.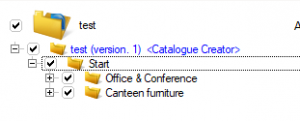 Hide / Show picklist editor

From the toolbar, you can decide whether to show the Picklist Editor at the bottom of the Browsing area or not. A picklist is a list of products that will be added into the Calculation but do not have symbols in your drawing. With the picklist editor showing, you can add and edit product in your picklist.