In the Extra section there are five options: Picklist, Finish Legend, System Validation, Side Elevation View Area, and Project Information. They are presented further below: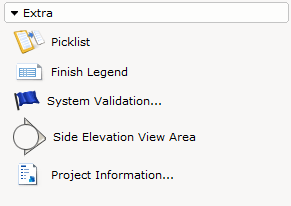 Picklist
The Picklist tool lets you add a picklist to your drawing. Picklists will add information for products to your Calculations without showing the symbols in your drawing. Place the picklist in the 2D drawing view as you would place any other item. Then double-click the picklist to open the Picklist editor. Here, you can edit and change which products should be included in the Picklist. The Picklist editor can also be opened from the Catalogues window.


Finish Legend
The Finish Legend shows an overview of all the material being used in the drawing. Simply click the Finish Legend tool in the Extra section and then click the legend in place in the drawing. When adding symbols to the drawing, the Finish legend is instantly updated. Note that this will only work after the material files have been downloaded.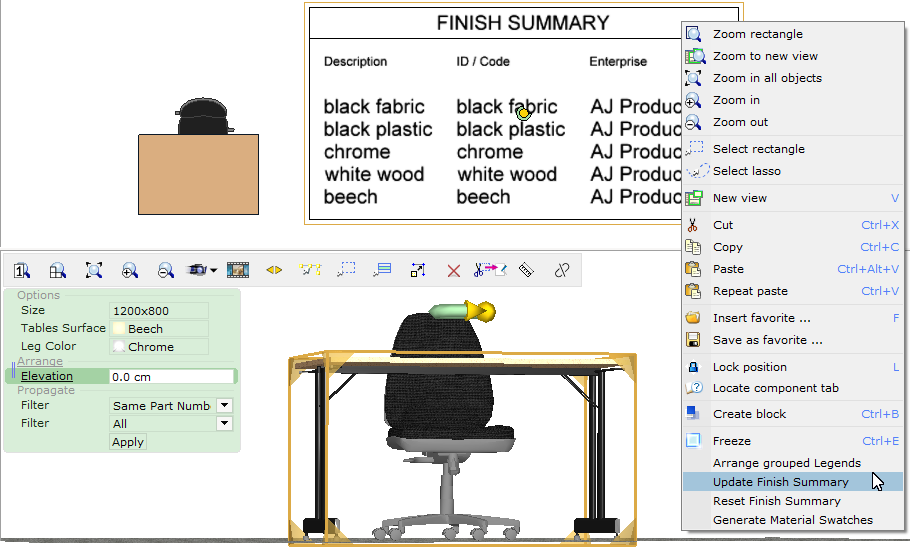 If you have multiple summaries in the drawing, you can have them neatly arranged, all in straight line. To do so, select all summaries, then right-click and choose Arrange grouped legends from the context menu.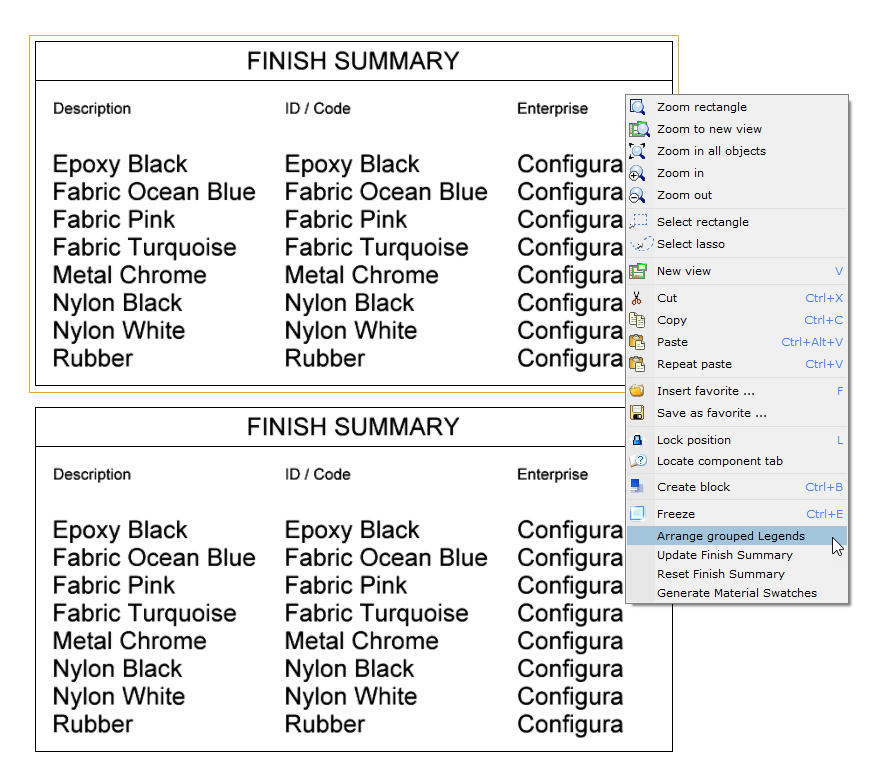 Upon right-clicking a finish summary, you also have the following options in the context menu:
Update Finish Summary: Update the finish summary when there are any changes made in the symbols' properties.
Reset Finish Summary: The same function as Update Finish Summary.
Generate Material Swatches: Generates and displays the material swatches in 2D drawing area.


Generated material swatches
System Validation
The System Validation dialog is a way to display if there are any errors in the system. If you click one of the messages, the 3D view will display which part that is associated with the current message in the dialog. Use the arrows at the bottom of the dialog to locate multiple instances of the same error.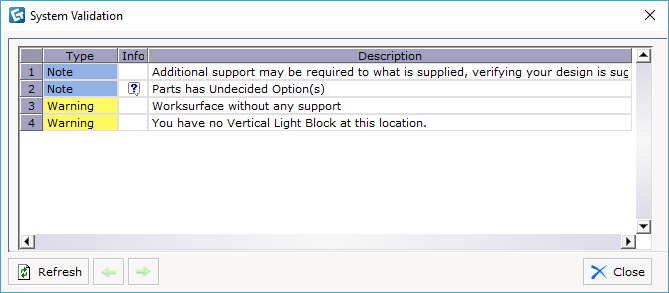 Side Elevation View Area
The main purpose of the Side Elevation tool is that you can add elevations for use in presentation and installation drawings. To create an elevation, follow these steps:
In the Extra section, select the Side elevation view area tool.
Place the Elevation window in the drawing. Place the rectangle with 3 clicks around the symbol(s) you wish to see.
The label will default to A, but you can change it to a different letter or give it another name entirely from the quick properties once it is placed.

Use the snap points to reposition the box and the elevation symbol. Drag the elevation symbol around by the yellow snap point to show the desired view.
To update an elevation, right click the elevation and select Update elevation.




Project Information
In the Extra section, you find the Project information dialog. This dialog allows all the Data Fields to be edited in one location. Data fields are used in Paper View when creating templates, reports and installation plans.