This article will review best practices when creating, saving, and using Templates.
Managing Your Templates
Managing your Templates can be accessed in the Control Panel. This gives you the flexibility to choose a default Template and start-up preferences. To open Templates, follow these steps:
Select the File menu
Select Control Panel
Select Templates
Save Location
Your default Save Location will be Documents\CET Documents\Templates\. To change this location, click the three ellipses

then browse for the new folder location and click Open.
The red X will restore the Save Location back to the default file path.
Default Templates in Control Panel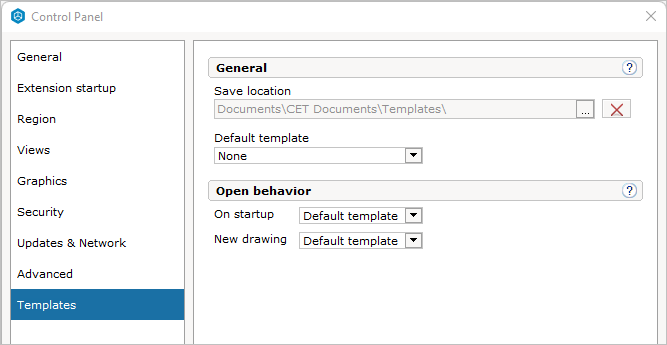 You have the option to assign a default Template to be used when starting CET and when a new drawing is created. To select the default Template, click the drop-down arrow and select the Template.
If you don't see any saved Templates, make sure the Save Location contains the correct file path.
In addition to selecting a default Template, there are two Open Behavior settings:
On Startup: Start CET with a blank drawing or with the default Template.
New Drawing: Start a new drawing with a blank drawing or with the default Template.
New Drawing refers to the File > New (Ctrl+N) function when CET is already opened.
After making your selections, click the X to close the window.
When the Open Behavior for '
On Startup
' and '
New Drawing
' is set to Default Template, the following scenarios will load with a new drawing or on the next CET startup.
You choose the newly saved Template as the default.
You choose your first default Template from the Template list.