If you want a little more information about an update before proceeding with the update, you can click Show details. This dialogue is a helpful little tool to know what kind of changes you're getting into should you choose to update right away.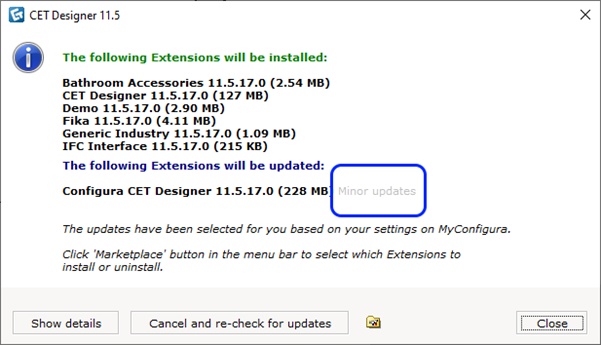 There are 3 types of updates that get pushed to CET:
Minor Updates
Major Updates
Critical Updates
Minor Updates
These include small changes and are released sporadically. They may consist of bug fixes and new features. Configura and most manufacturers schedule minor updates once a month. Because their schedules may not line up, you may get many minor updates at what feels like random times.
Major Updates
These happen twice a year - May and November. Major updates will move CET to an entirely new version, for example, from 11.0 to 11.5.
This can affect your workflow significantly since drawings opened in the latest version cannot be opened in a previous version. Make sure that everyone in your company is updating at the same time to avoid the problems that could result from that.
There may also be significant changes to how an entire tool is used, so we don't recommend completing major updates if you have an important deadline the next day. Complete your project, then update when things are a bit calmer.
Critical Updates
These are not scheduled updates but contain important fixes that pertain to severe issues that have probably been blocking your workflow already. Critical updates are performed automatically when you restart CET to make sure you get the most vital fixes right away.
Besides seeing the severity of an update, you will see which Extensions are being updated and the version numbers. You may or may not care about the version numbers, but those are helpful for the Support Team in case they need to check which version you are on when helping you with an issue if you chat in! But it is great to know which Extensions you can expect to see changes in.
Also, in the Show details dialogue, you have the option to Cancel and re-check for updates. This option is helpful if you know another update should be out, but you don't see it in the list. Once you click this, the whole downloading and installing process begins again.
Keeping up with the latest in CET is essential for having the best experience of the software. You will get the correct information regarding part numbers and pricing, and you'll also have the latest tools developed with you in mind.