CET is always updating in attempts to improve the experience for our users - that means YOU! To get the best experience of CET, make sure to stay up-to-date with all the latest changes. You don't want to miss out on new product lines that are released, new pricelists, new tools, and you definitely don't want to miss the bug fixes!
There are two responsible parties when it comes to updating - CET and you. Here's a breakdown of each of your roles in the process.
CET's job
When CET is connected to the internet, it will automatically search for any updates that are available. If a manufacturer or Configura have pushed out anything new, CET will immediately begin downloading and installing the updates. You can continue to work while this happens. The only thing you will notice is a little message at the top of the program.
When the process starts, it will say Downloading updates.... and a progress bar will begin to fill up:

Once the progress bar is complete, a separate process begins and the message will say Installing updates.... . At this point, the progress bar stays full and you might feel like it's stalling, but it most likely isn't! Installing is a whole new task going on in the background.

Once CET is done with its job, it just needs to be restarted, which leads us to....
Your job
Now that CET has finished doing its thing, it's your turn to do your part! You will see a banner at the top of the program letting you know that the updates are ready. You have a few choices for what you want to do with the information. The toughest part of the whole process is making the decision of when you want to complete updating. Once you decide, you just have to click the option you want!
Your options are:

Update on next restart: This removes the message and whenever you next open CET, it will complete the updating process. This is the quickest option because you do not need to close and reopen CET beyond when you normally would anyway. No extra waiting! Yay!
Update & restart: When you choose this option, CET will immediately close (don't worry, it will prompt you to save your drawing), and begin reopening at once. This is a good option when you know there is an important update waiting and need to get it right away. You might run into this situation if you know there is a new pricelist you need for accurate specs, or if there is a particularly nasty bug that you know will be fixed with the update.
Remind me later: The yellow banner will disappear and CET will wait a few hours before reminding you again. 
X: This will remove the banner and you will not be prompted to update again until either an additional update has been released or you manually check for updates from the Help menu.
To customize your updating experience, you can control your settings in the Updates & Network tab of the Control Panel.
Details & types of updates
If you want a little more information about an update before doing actually updating, you can click Show details. This dialog is a helpful little tool to know what kind of changes you're getting into should you choose to update right away.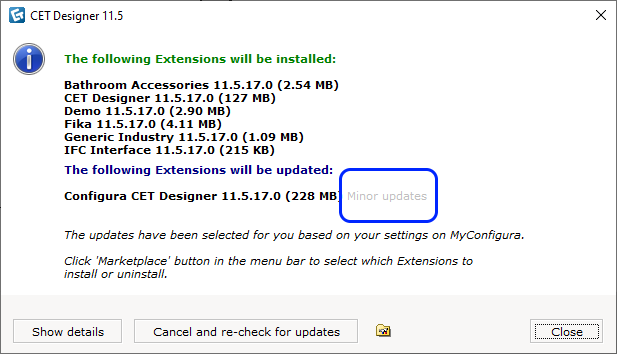 There are three types of updates:
Minor updates
These include small changes and are released sporadically. They may include bug fixes and new features. Configura and most manufacturers schedule minor updates once a month. Because their schedules may not line up, you may get many minor updates at what feels like random times. 
Major updates
These happen twice a year - May and November. Major updates will move CET to an entirely new version, for example, from 11.0 to 11.5.
This can affect your workflow significantly since drawings opened in the latest version cannot be opened in a previous version. Make sure that everyone in your company is updating at the same time to avoid the problems that could result from that. 
There may also be big changes to how an entire tool is used, so we don't recommend completing major updates if you have an important deadline the next day. Complete your project, then update when things are a little calmer.
Critical updates
These are not scheduled updates but contain important fixes that pertain to serious issues that have probably been blocking your workflow already. Critical updates are performed automatically when you restart CET to make sure you get the most important fixes right away.
Besides seeing the severity of an update, you will see which Extensions are being updated and the version numbers. You may or may not care about the version numbers, but those are helpful for the Support Team in case they need to check which version you are on when helping you with an issue if you chat in! But it is great to know which Extensions you can expect to see changes in.
Also in the Show details dialog, you have the option to Cancel and re-check for updates. This option is useful if you know there is another update that should be out, but you don't see it in the list. Once you click this, the whole downloading and installing process begins again.
Keeping up with the latest in CET is essential for having the best experience of the software. You will get correct information regarding part numbers and pricing, and you'll also have the latest tools developed with you in mind.