The Collaboration Lite Extension allows multiple users to work on a drawing concurrently. Edits can be made locally on one designer's computer and then changes are submitted to the cloud so that others can access the Project at once. Individual sections can only be edited locally by one user at a time, but multiple people can open and view the same files and see the changes most recently submitted.
When using Collaboration, a drawing file is known as a project which has multiple files, sections, and paper groups. Different sections can be edited by different users at once for efficiency, but only one section can be edited by one user at a time to avoid conflicting edits. When a user is editing a section, it will be in a locked state which prevents other users from modifying it, even though they can view it.
Collaboration Lite is different from the original collaboration tool and is not intended to replace it.
What's in the Extension?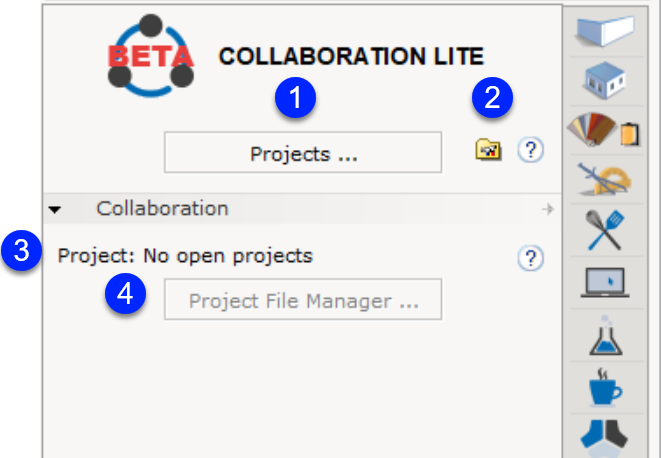 Projects ...: Opens the Projects dialog that shows a list of existing Collaboration drawings saved in the selected server location, which is chosen in the settings.
Collaboration settings: Opens the Collaboration Settings in the Control Panel (also accessible from the File menu). Set up your server and local workspace settings, and other miscellaneous settings.
Current Project: Shows the name of the project that is currently open.
Project File Manager: Opens up the File Manager that shows all server and local files of the project and hosts the controls to perform the Collaboration operations.