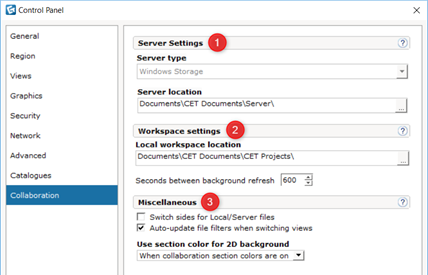 1. Server settings
Server type: Currently only supports Window Storage. Manufacturers will be able to add their specific servers types.
Server location: Browse for a location to save projects on a server.
2. Workspace settings
Local workspace location: Browse for a local folder to save downloaded projects.
Seconds between background refresh: Set how often projects refresh in the File Manager.
3. Miscellaneous
Switch sides for Local/Server files: Swaps the side of All Project Files and Local Files in File Manager. By default, All Project Files are on the left and Local Files are on the right.
Auto-update file filters when switching views: This will automatically change the filters when you go between Paper View and the regular drawing view. When in the drawing view, the Paper filter will be turned off. In Paper View, the only active filters will be Paper and Attachment. You can still manually adjust your filters when in either view. To revert to the automatic filters, click the refresh icon to the right of the filter list.
Use section color for 2D background: Tint the background of the 2D drawing view with the color assigned to the active section in the File Manager.