The Auto Tagging tool lets you pick one or more Part Tags that will automatically be applied to all objects placed thereafter as if you had tagged those objects using the Tag individually tool.
The Auto Tagging tool is accessed from the toolbar above either the 2D view or the 3D view:

It has two states:
| | |
| --- | --- |
| | |
| Disabled | Enabled |
The tool is disabled by default, but CET will remember its last state when the program is restarted.
When the tool is enabled, a drop-down menu appears next to the icon. Here, you can pick which Part Tag should be applied to objects that are inserted or copied hereafter: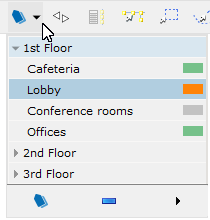 This list represents the setup in your Part Tagging dialog, i.e. the collapsible rows are your Part Tag Categories, each containing its tags with the same tag name and color as in the Part Tagging dialog. The tag currently selected for Auto Tagging is highlighted in blue. 
Changes made in the Auto Tagging drop-down menu are reflected in the Part Tagging dialog and vice versa.
An object can belong to multiple Part Tag categories, but only to one tag per category. 
At the bottom of the drop-down list you will see the following icons:
| | | |
| --- | --- | --- |
|   |   | Opens the Part Tagging dialog. |
| |   | Clears all tags in the drop-down menu. |
|   | | Collapses all / Expands all categories in the drop-down menu. |
Inserting or placing objects with Auto Tagging enabled
Having enabled Auto Tagging and selected one or more categories to apply, placing an object will prompt a feedback toolbar at the bottom of your active 2D/3D view: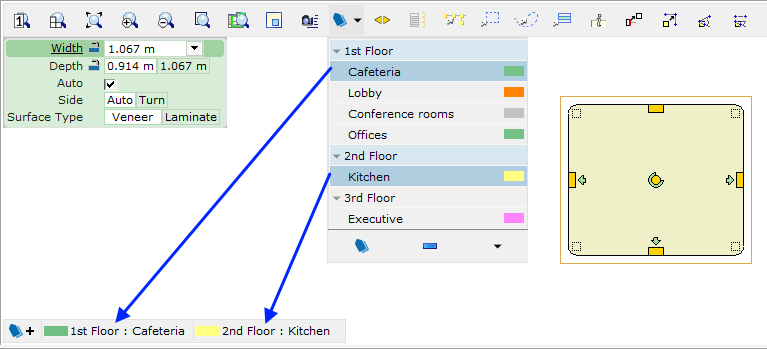 While placing, before clicking the object in place, you can change the tag for that particular object by moving the cursor to the feedback toolbar and clicking the current tag. This will let you pick a different tag from the list: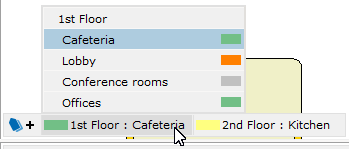 The

button on the far left of the feedback toolbar lets you add categories/tags from the Auto Tagging drop-down that had not been selected from the start:

Changing tags in the feedback toolbar when inserting/copying an object will only update the tag of the selected object; it will not update the Auto Tagging drop-down menu in the 2D/3D view toolbar.
Copying multiple objects
When copying multiple objects, the tags might be different for each object.
Before placing the copies, clicking a tag name in the feedback toolbar will show the number of objects selected that have this tag:
| | |
| --- | --- |
| | |
| Both objects have the Cafeteria tag... | ... while only one object has the Kitchen tag |
If Auto Tagging is enabled and you open a new or multiple drawings, the Auto Tagging drop-down menu is cleared of selected tags in order to avoid unnecessary Part Tagging on objects placed in the drawing area.
Your categories and tags are still available; you will just have to select them again.