Global lights
The overall light settings of the drawing can be set in the Global lights tab of the Light Settings dialog. (They can also be set in Lighting & Shadows in Advanced Photograph Setup in Photo Lab.)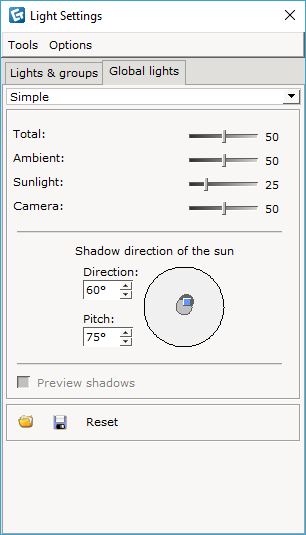 Depending on which Extensions you have installed, you may see different options for types of light settings you can use, including:
Two spotlights
Sun for natural light
Kitchen lighting
Natural kitchen lighting
Simple
The Simple setting is the quickest way to render but adds a bright sun to the rendering, creating a harsh shadow. The Sunlight setting can be lowered and other lighting can be added for a better result.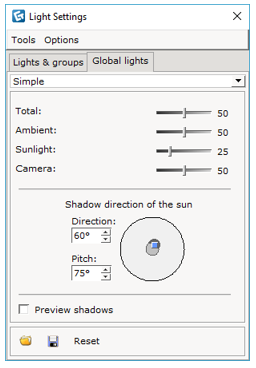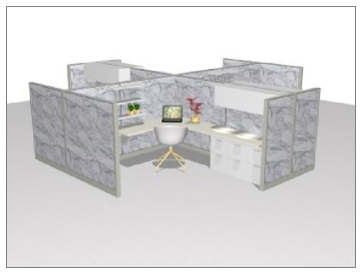 Multiple suns
The Multiple suns preset creates a diffused lighting effect.
Pitched: 3 point lights at about eye level to add light to the vertical surfaces. These lights do not cast shadows. You can change their positioning by using the Direction and Pitch by dragging the blue button inside of the circle.
Uplight: This will light the ceiling and the bottom of all horizontal surfaces. It does not create shadows.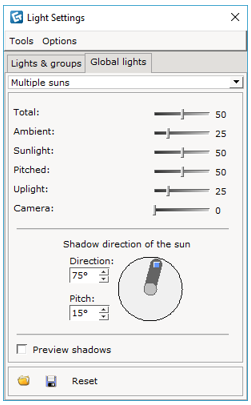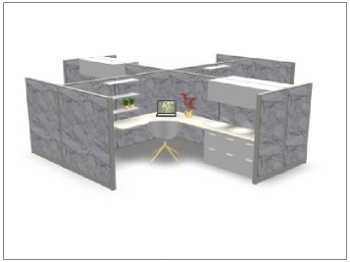 Office Lighting
The Office Lighting setting is designed to be used with office furniture. The tool adds two invisible spotlights, creating a soft, diffused shadow. Rendering using Office Lighting is much slower than the Simple or Multiple suns setting.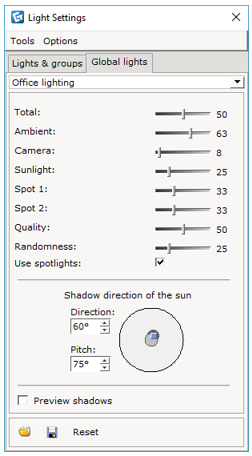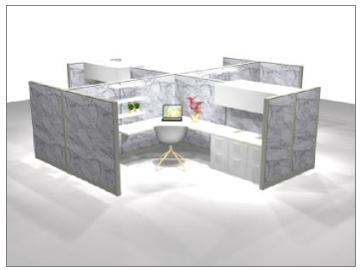 Realtime lighting
The option Enable realtime lights means that lights and shadows update themselves instantly as you work and move objects in the drawing area without having to render to see each change you make to your lighting.
To see the effect immediately check the Enable realtime lights button in the 3D component tab.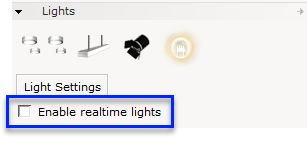 You can also find Enable realtime lights in the Control Panel, Photo Lab, or the Lights extension.
Realtime lights is a resource-intensive operation. It will slow your system down significantly. Use it only as needed to preview the light effects. Turn off immediately when you are done previewing the lights.