Predefined materials, textures, and colors can be changed in different ways for special effects in the 3D view. You can adjust the the following settings of your materials:
Diffuse: Turn down for a duller, darker quality.
Specular: How glossy the material should be; how light will bounce off a surface.
Reflection: How much the material should reflect other objects in its surroundings.
Reflection sharpness: Define the crispness of reflected objects (only available if the advanced graphics engine is active). Maximum sharpness will result in a mirror-like reflection, while lower sharpness will create a blurry reflection similar to what you would get from a polished wooden floor.
Texture scale: If a material has been created with an image file in the Texture tab, you can change its size as it appears on the objects on which it is painted. This property is grayed out unless you are working with materials in the Texture tab.
Keep the settings when changing material means that the settings you change will remain when you select a different material in the dialog.
Change selected will apply any changes immediately to a selected model in the drawing when you adjust any properties. Be aware that it will change ALL layers of a model and not just the layer that may originally have been painted. So keep an eye on your drawing while you make changes! If nothing is selected, the floor will be changed.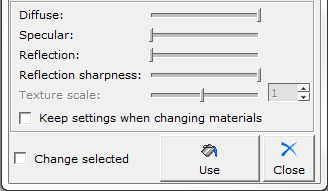 Example: You have used a clinker texture on a floor, but feel that the surface is too dull. Follow these steps:
In the Select Material dialog box, select the clinker texture you used.
In the lower field, go to the four sliders for diffuse, specular, reflection, and reflection sharpness. Adjust the setting for Reflection slightly by dragging the slider.
Click Use at the bottom of the dialog box, move the cursor to the floor, and click (if you have checked the Change selected checkbox, the settings will be applied immediately on any selected areas, or to the whole floor if nothing is selected). Continue until you have attained the desired effect.