In the Select material dialog box you will find the Color tab where you can mix and create your own colors and save them as favorites.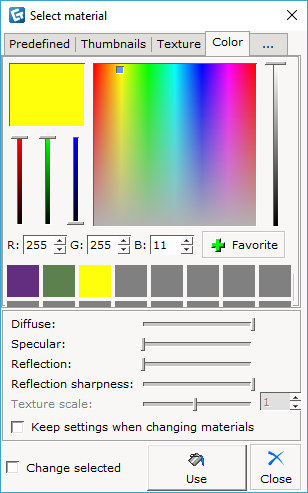 Follow these steps to create and use your own color:
Go to the 3D component tab.
Under Material Change, click the Material button.
Click the Color tab.
There are three ways to create a color:

Mix your desired color by dragging the three RGB (Red, Green, Blue) sliders shown at the top left of the dialog box.
Enter the RGB values in the three text fields if you know the exact values.
Click anywhere inside the color spectrum box at the top right of the dialog box. Then drag the Value slider to its right to make the color lighter or darker.

Adjust the properties of the color with Diffuse, Specular, Reflection, and Reflection.
To be able to re-use the color, click "+ Favorite" to save it. The color is now saved in the lower part of the dialog box, above the properties.
Next, click Use at the bottom of the dialog box.
Move the cursor to the drawing area. A paint can follows.
Hover the cursor over any component you want to change. The edges of the component are now outlined with the color you selected.


Note the properties box in the corner of the drawing view listing the layers of the symbol. Use the Tab key on your keyboard to switch between the layers.

Click to apply the new color to the selected layer.
Repeat steps 9-10 as needed.
Once you are finished, hit Esc on your keyboard, or move your cursor outside of the drawing area to escape the command.