The Paper Manager is a dialog found in the Tools section on the Tools (paper) component tab in Paper View. In the Paper Manager, you can organize your papers and use functions such as insert new papers, remove paper, load and save paper.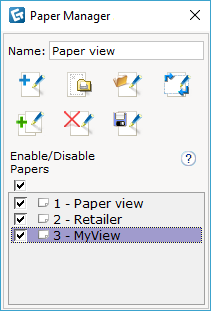 The following options are available in the Paper Manager:
| | |
| --- | --- |
| | Name: Change the name of the papers. |
| | Insert a new paper: Creates a new, empty, paper. |
| | Page setup dialog: Opens the page setup dialog where the paper size, margins etc can be changed. |
| | Load paper from file: Opens a paper from a file. |
| | Change paper orientation: Changes the paper orientation between landscape and portrait. |
| | Copy selected paper: Adds a copy of the currently selected paper as a new page. |
| | Remove selected paper: Removes the selected paper. |
| | Save selected paper: Saves the selected paper. |
You can select multiple papers at the same time by pressing Ctrl or Shift while clicking the papers.