While using CET Designer, you might run into situations where you need additional information or to consult our helpdesk.
Help Articles
You can access our online help articles in one of the following ways:
You can also report issues and submit feature requests from the Help menu.
Configura Website
Visit www.configura.com/cet to find user instructions, FAQ, documentation, and more.
You can quickly access our website by clicking the Support button in the program window: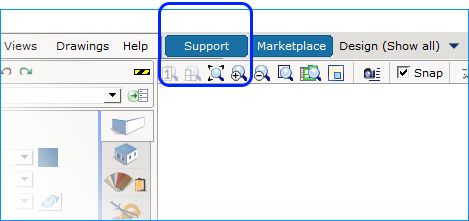 CET Designer Help Desk
Our CET Designer Help Desk offers complimentary, personal support on issues related to download, installation, usage and much more. If you need help accomplishing a task, have a question about our software, want to report a program issue, or need a workaround for an issue, we are here to help you.
You can either send your request to cetsupport@configura.com, contact Live support, or call 1-877-CET-0808 (toll free in the US and Canada). The helpdesk is available for 24 hours during the week until Friday at 8:00pm EST.
For more information, please visit www.configura.com/cet/support
Configura does not have support agreements with all manufacturers with extensions on the platform. When this is the case, you will need to contact a manufacturer directly.