On the Lines tab in the Style Editor you can create new, and change predefined Styles.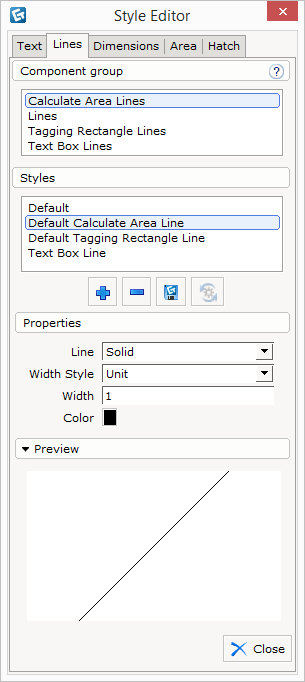 Component Group
A component group is a type of object that can accept a Style. For example, you can use the Leader tool throughout a drawing, but can apply a different Style to each individual arrow. Leader tool is included in the Lines component group. See the article on the Style Editor for more information on applying Styles.
There are many different component groups on the Lines tab, such as:
Calculate Area Lines: outlines for the Calculate Area tool.
Symbol Lines: 2D lines (including arrows and arcs), and outlines for shapes (circles, rectangles, and custom shapes).
Tagging Rectangle Lines: visible lines of when placing Part Tagging areas, including rectangles and custom shapes.
Dimension Lines: lines of dimensions in 2D.
Help Lines: visible lines when placing help lines in 2D.
Revision Cloud Lines: sets the Style for the available Revision Cloud components.
Text box lines: 2D text box frame.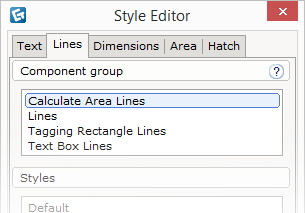 Styles
Under the Styles heading, all available Styles are displayed for the selected component group. Both your own Styles and those that come from a shared drawing will show. You can share your Styles with co-workers by sending a .cmstl file or by sending your drawing containing desired Styles. When your co-worker has opened the drawing, they can save the Styles globally and are free to use your Styles in other drawings.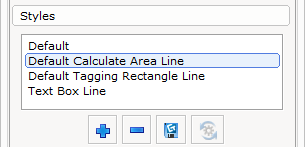 Under the Styles list, there are four Style Tools:
Add new style:

 Clones selection as a new style. New Styles can be saved and found in your File Explorer in CET Documents > Styles as a .cmstl file. These files can be shared with others by having them save the .cmstl file in the same location on their computer.

Delete style:

 Removes selected Style. Default Styles cannot be deleted.

Save style globally: 

If you want to use Styles in other drawings, save the Style globally. The Style will be saved on your hard drive and will always appear in your Styles list.

Reset style to default:

 Reverts a Style to the default values.
If a Style is not saved globally, you will be prompted when closing the Style Editor with the prompt seen below. Selecting Yes or the X in the upper-right will close the Style Editor and you will only be able to use the Style in your current drawing. Selecting Cancel will keep the Style Editor open so you can save globally and then close.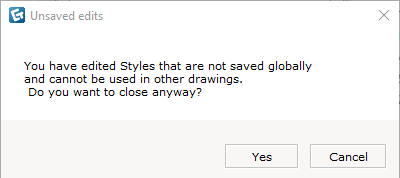 Properties
For all line Styles you can change the following properties:
Line: Type of line (e.g. dashed, dotted, solid).
Width Style: Unit is defined in pixels and Unscaled width is defined in millimeters.
Width: Thickness between 1-5.
Color: Click the color window to select desired color.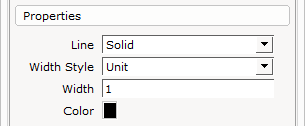 Preview
See how your new Style will appear in the drawing view. The changes will be displayed instantly so you can see the result of how the edited Style will look.