On the Area tab in the Style Editor you can create new or change predefined styles for the Calculate Area Tools.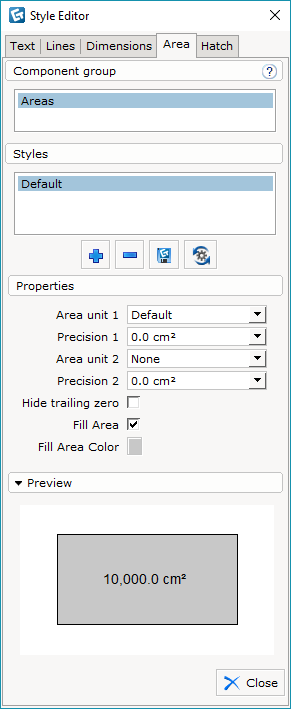 Styles
In the Styles section, all available styles are displayed, both your own styles and those that come from an external drawing. You can share your styles with co-workers by sending your drawing containing desired styles. When your co-worker has opened the drawing, they will save the styles globally and be free to use your styles.
The currently selected style is set as default for the given component group. If a style comes from an external drawing, it is displayed after the style name as shown below.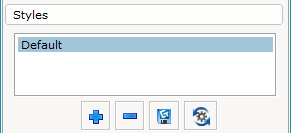 In the Style Editor there are four standard Style Tools:
| | |
| --- | --- |
| | Add new style: Create a new style. The currently selected style will be cloned and all settings will be copied to the new style. |
| | Delete style: Delete a style. Default styles cannot be deleted. |
| | Save style globally: Save styles to use in other drawings. The style will be saved as a .cmstl on your hard drive in CET Documents > Styles. Share the file with others and have them save in the same folder on their hard drive. |
| | Reset style to default: Any changes made to a style will be undone and original settings will be restored |
Properties
For all area styles you can change the following properties:
Area unit 1: Choose the desired distance unit in the drop-down menu. Default will use the distance unit set in the Region section of the Control Panel.
Precision 1: Change how precise you want the distance to be.
Area unit 2: Include an additional distance unit.
Precision 2: Change how precise the additional distance unit should be.
Hide trailing zero: Hide trailing zeros when there are fractions in the distance unit.
Fill area: Give shape a solid background.
Fill area color: Change the color of the solid background.
Preview
The preview window shows all the changes you made to a style. The changes are updated instantly to let you see the result of your selections: