Calculate Area –
Pick the

Calculate Area

tool on the Tools component tab.
Move the cursor to the drawing area.
Click to create the shape that you want. Each time you click, a snap point is placed in the 2D view.
To complete the area, overlap your last point with the first point.
Drag yellow snap points to modify the space.

The following tools are available for editing the shape:

Add point: adds an snap point anywhere along the shape's edge.


Move line: extends a line straight out while keeping its length (see Figure A below). This differs from using the stretch nodes on the shape because the Move line tool will retain the length of the line being moved and add yellow stretch nodes, whereas stretching with the green triangles will change the length based on the stretch and retain the same amount of stretch nodes.


Switch straight/curved: hover between two snap points to switch the line from straight to curved and vice versa.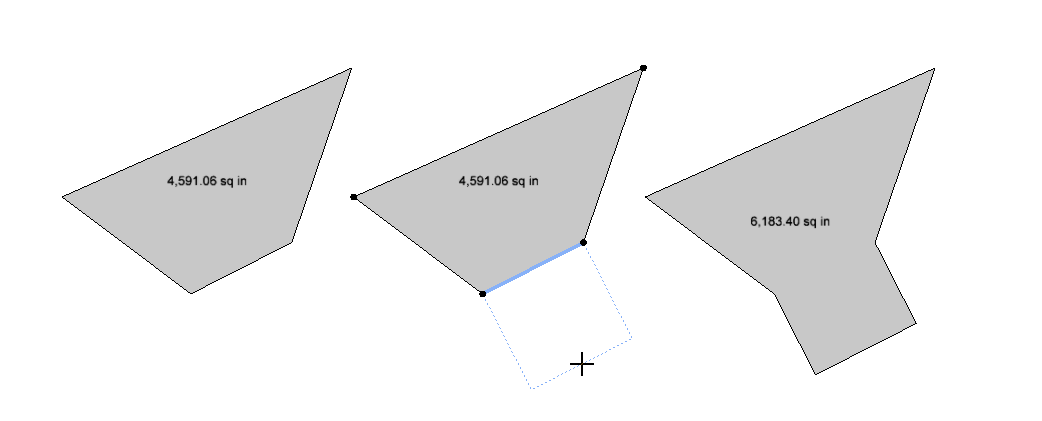 Figure A
All of these tools are used by first clicking the tool in the component tab and then moving the cursor to the shape to perform the edit. To escape the command, hit Esc on your keyboard, or move your cursor outside of the drawing area.
Area text can be moved around freely by grabbing and dragging the text. Hover in the upper-right corner of the text to lock or unlock the text. You can open the Style Editor to change the area properties, such as distance unit, precision, fill color and text properties.
Removing a Point
To remove a point from the area you are calculating, you will use the Remover tool from the 2D or 3D Toolbars.
Select the Remover Tool from the 2D or 3D Toolbar.
Hover over the Calculate Area space in your 2D drawing view. You will see a properties box appear with the option to "Remove points," which removes individual snap points instead of the entire shape. Press the space bar to check this box.
Hover near the point(s) you would like to remove, and click to remove.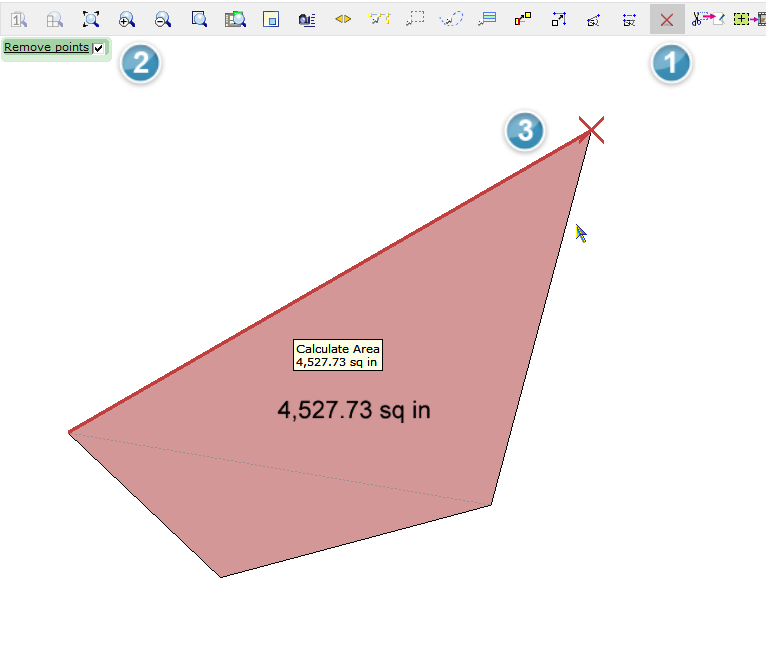 After drawing a calculate area shape, you can use the quick properties to edit it: