On the Hatch tab in the Style Editor from the Tools component tab you can create new or change predefined Styles.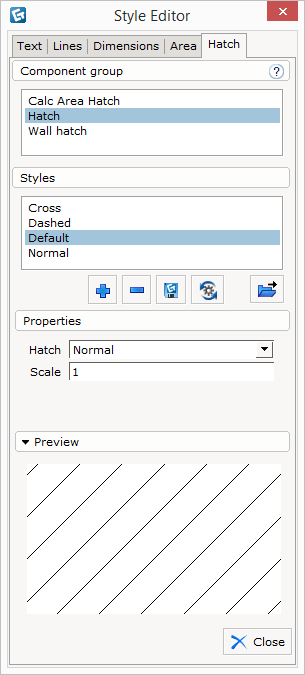 Component Group
A component group is a type of object that can accept a Style. For example, you can use hatching throughout a drawing, but can apply a different style of hatch to each individual instance. In this case, the Hatch tool is the only tool in this component group. See the article on the Style Editor for more information on applying Styles.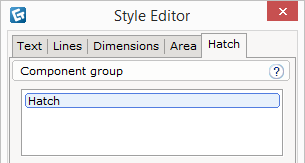 Under the Styles heading all available styles are displayed, including default styles, ones that you create, and those that come from an external drawing. In this way you can share your styles with co-workers by sending your drawing containing desired styles. When your co-worker has opened the drawing, he or she can save the styles globally and be free to use your styles.
The currently selected style is set as default for given component group. If a style come from an external drawing it is displayed after the style name as shown below.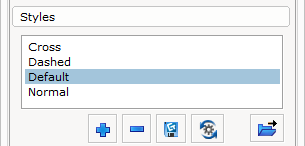 In the Style Editor there are four standard Style Tools, and one additional tool for the hatch tab:

| | |
| --- | --- |
| | Add new style: Creates new style; the currently selected style will be cloned and all settings will be copied to the new style. |
| | Delete style: Remove a style; however. default styles cannot be deleted. |
| | Save style globally: Overwrites existing styles, or saves new styles that you created so they can be used in other drawings. New styles will be saved on your hard drive. |
| | Reset style to default: Resets the selected style to its default values. |
| | Import hatch patterns: Browse for a .pat file on your local hard drive or a shared location to import additional hatch patterns. |
Properties
Unless additional patterns have been imported, there are three standard hatch patterns: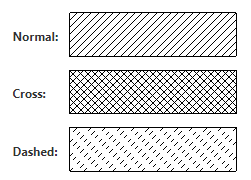 Here, you can also set the pattern scale.

Preview
The preview window lets you preview the hatch pattern. Changes will be displayed instantly and which helps you to see exactly how the pattern will look as shown below.