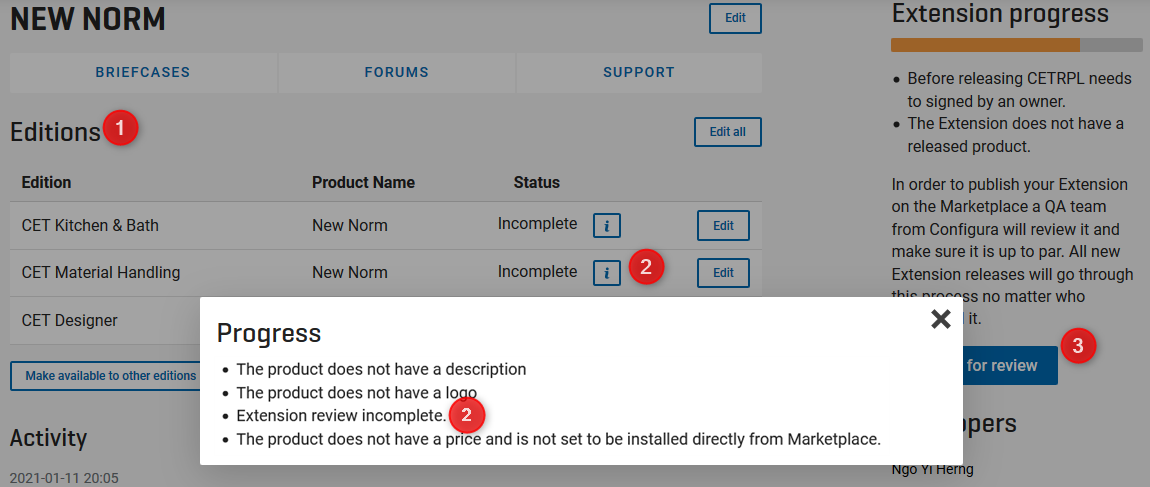 Go into the Extension page, you will see the Extension progress on the right-sidebar. There will be a section called Editions. You will see different CET editions that your extension will be released in.

Click on the label "i" in the edition status will bring up the edition progress pop-up.
Within this pop-up, you might see "Extension review incomplete" listed if your extension has not been submitted for review, or if it has not passed the Extension Review for this edition.

To submit your Extension, simply click on the Submit for review button on the Extension page.

Fill in your JIRA project name (if you have one), Contact person, Configura Account Manager, CET edition that you wish to review in, License name for your extension, and additional information of your extension.

A green ribbon will appear to indicate that a request has been successfully sent.

The Activity log will record the action of sending a review request.

Before an Extension passes the Extension Review, the checkbox to publish the extension is grayed out on the Edit Product page. This removes the ability to publish extensions that have not passed the review process. Users will of course not be able to download and install unpublished Extensions for a particular CET Edition.

The assigned Quality Assurance Analyst will update the ticket in Jira after testing with the status "Test Approved" or "Test Rejected".

An email will be sent to the Requester with the status of the review process and the attachment of the report card. Additionally, this status will also be updated in the Activity Log and under the Edition Status button "i".

Once the Extension passed the review process for an edition, the Extension owner can publish the Extension to Marketplace and the status of "Extension Review incomplete" will be removed from the Edition progress.
Have additional questions?