In Paper View, you can use the Leader tool to reference objects in your drawing when working with Viewports and View Clips.
To use the Leader tool, follow these steps:
On the Tools (paper) tab in Paper View, click the Leader tool:




Move the cursor to the paper; a placeholder text is attached to the cursor:




Click once to place the placeholder text in the desired position. A leader now follows the cursor:




Move the cursor to let the leader snap to the object that you want it to reference. The placeholder text is updated to show the object information:




Click once to confirm. A new leader is now attached to the cursor.
If you prefer to have curved leader, click on the existing leader then choose Curved in the Leader option in the quick properties.



Keep placing more leaders, or move the cursor off the paper view to release the component, alternatively press the Esc key.
After releasing the component, the leader is selected and you can edit it from the quick properties. They can also be accessed by selecting a leader: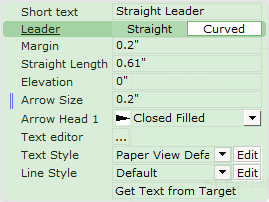 The following properties can be edited here:
Short text: Type a different text then the automatic one.
Leader: Option to choose Straight and Curved leader arrow's line.
Margin: Edit the space between the leader and the leader text.
Straight length: Controls the distance from the text to where the line changes direction.
Elevation: Arrange order of 2D shapes in the drawing view.
Arrow size: Determines the size of the arrow head.
Arrow head 1: Pick the arrow head style that you want to use (open, architectural tick, etc).
Text editor: Opens the Text Editor window for easy editing and for longer texts. The Text Editor window can also be opened by double-clicking a leader text.
Text style: Use drop-down to select a pre-defined

style

or click Edit to customize Font, Font Height, Font color, and more. Choose between different text styles that you create in the

Style Editor.
Line Style:

To edit the appearance of your leader line, u

se drop-down to select a pre-defined

style

or click Edit to customize Width (thickness), type (solid, dashed, etc.), and more. Choose between different line styles that you can create in the Style Editor.
Get text from target: Click this button to have the leader pull information from the object it is referencing.

Currently, Get Text from Target only works for objects in 3D Viewports. For referencing other objects in Paper View, use the Short Text field.