With IFC being the international standard for BIM, we offer this Extension to equip your CET Designer with an option to export your drawings to IFC 2x3. The IFC Extension is downloaded and installed from the Marketplace.
What is IFC?
IFC, or Industry Foundation Classes, is the global, primary standard used to describe, share, and exchange open BIM data, i.e. construction and facilities management information.
As a file format, IFC is neutral (not the product of or favoring any particular vendor) and non-proprietary.
IFC is supported by about 150 software applications worldwide and this kind of interoperability is crucial as construction is becoming increasingly collaborative. It is registered by ISO and is an official International Standard ISO 16739-1:2018.
Advantages of IFC
Replaces RevLink as a way for designers and architects to work together.
Does not require an additional add-in in Autodesk Revit.
Designers do not have to rely on having Autodesk Revit installed to verify their drawing as there are many free IFC viewers available.
What's in the Extension?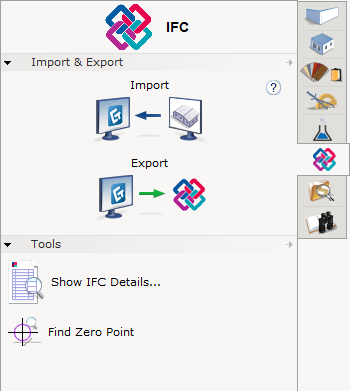 Import & Export
The IFC Extension allows you to import an existing IFC drawing into CET Designer. On the component tab, there is an import option and an export option, which are described in other articles in this section.
Tools
Show IFC Details...
Allows you to view the IFC data of each object in the IFC model. To use, click the button to open the dialog and then click on any object in the imported IFC model.
Find Zero Point
Use this button to zoom in on the zero point of the imported IFC model.