If you want to make multiple copies of a component and offset them by a certain distance, use the Replicate command. This is a powerful tool to accurately and quickly copy and distribute objects during the space planning process.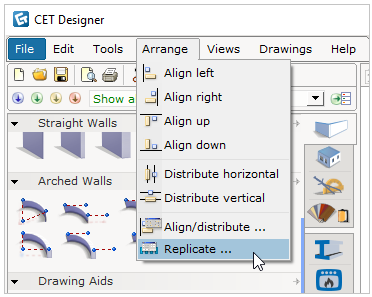 In the drawing area, select the objects to be copied.
Go to the Arrange menu and select Replicate ...
A Replicate dialog opens in which you can choose to copy items in a straight line or a rectangle
In the Line tab, you can replicate up, down, right, or left in the 2D view, or stack up or down in the 3D view.
Use the Rectangle tab to create a grid-like layout for multiple copies.

The Count is the total number, including the original. So, if you want one additional copy, enter "2".


Leaving the count at "1" will create no additional copies in that specific direction.

The Distance is the dimension for the offset. (See images below for examples.)

To next: Distance from the starting point of one object to the starting point of each new copy.
Edge to edge: Distance between the edges of each copy.
Total length: Distance from the start of the first object to the end of the last copy.
6. Hit Apply at the bottom of the dialog to see the results.


To Next


Edge to Edge


Total Length